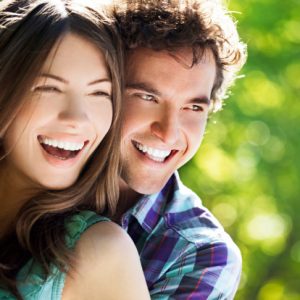 A recent study conducted by researchers at the University of California at Berkley revealed that people who smiled more often lived longer, had happier marriages, and reported feeling less depressed. If the simple act of sharing your smile more often could improve your entire life, would you give it a shot? Children smile hundreds of time each day. Adults are lucky to smile dozens of times, and the reasons people give for smiling less often as they grow up frequently relate to the way their smiles look. In order to hide crooked, chipped, cracked, and stained smiles, people may be missing out on a happier life. There's good news for Naples, FL residents. Dr. Mark Makram and his team offer a wide variety of cosmetic dentistry services to give patients the picture-perfect smiles of their dreams.

Cosmetic Dentistry Services
Dr. Makram offers patients a wide variety of cosmetic dentistry services to meet any needs, and make any smile brilliant. Cosmetic dentistry services include:
Teeth whitening – We offer Zoom! in-office whitening for smiles up to 10 shades brighter over your lunch break.
Porcelain veneers – Made from thin sheaths of dental grade porcelain, veneers are a popular cosmetic dentistry choice for patients who want to conceal numerous smile irregularities quickly and effectively.
Invisalign – Get straighter teeth without the mouth full of metal, dietary restrictions, or flossing challenges associated with traditional braces. Invisalign uses clear plastic alignment trays to gently shift teeth into proper alignment in just 10 to 18 months.
Cosmetic bonding – If you've had a tooth-colored filling in recent years, you're already familiar with the cosmetic bonding materials. With the same tooth-colored composite resin used for fillings, cosmetic bonding conceals stains, chips, cracks, and other minor smile irregularities with minimal preparation.
Gum contouring – Patients who think their teeth are "stubby" are often dealing with enlarged or uneven gum tissue. A minimally invasive gum recontouring procedure leaves patients with even distribution of teeth and gums.
Transform Your Smile – Custom Smile Makeover Plans
Not sure what cosmetic dentistry services will give you the smile of your dreams? Let Dr. Makram and his Naples dental team help. Visit us for a smile makeover consultation. A smile makeover is personalized treatment plan that can include any combination of restorative and cosmetic dentistry services. During a smile makeover consultation, Dr. Markam examines teeth and bite, takes digital x-rays and photos, and works with each patient to determine desired results. Our Naples cosmetic dentistry team discusses treatment options, answers questions, and makes recommendations. Before you leave the office, we will schedule treatments that meet your needs, on your schedule, and within your budget.
Find Out More – Call Your Naples Dentist Today
Are you ready to smile more and lead a happier life? Call Dr. Makram's Naples dental practice today. We're happy to help you discover your most beautiful smile, whether you're in need of a simple cleaning or you're ready for a smile makeover.