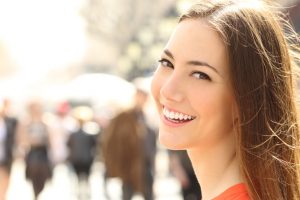 It looks like spring is arriving sooner than ever in much of the US. As Floridians, we love the warm weather, but it's also a little strange — and we say when it seems like things in the world are just a little out of whack, your smile shouldn't be one of them. Your dentist, Dr. Mark Makram, provides porcelain veneers in Naples. So why not celebrate this early-bird spring by giving your smile the makeover it deserves?
Are Porcelain Veneers Right for You?
Dental veneers can cover up virtually any cosmetic issue. For teeth that are weak, decayed, or have major structural issues, however, a dental crown offers more support. But if your teeth are cosmetically flawed and otherwise healthy, you're likely an excellent candidate for porcelain veneers.
Dental veneers can cover up the appearance of…
Broken or chipped teeth

Misaligned or misshapen teeth

Slightly gapped teeth

Short or stubby teeth

Severely stained or discolored teeth
Additionally, we recommend patients be over the age of 18 before they can undergo the procedure for veneers. Before that, you run the risk of a last-minute growth spurt for the teeth, an expensive mistake when you have to reapply every dental veneer to cover up the new growth.
In conclusion: If you're an adult over the age of 18 and you're looking to transform your imperfect but healthy teeth, dental veneers are likely an excellent choice for you.
How Veneers Are Placed
After you and Dr. Makram have decided together that porcelain veneers are the best option for your smile, you can expect the procedure to be performed over two to three visits to our office. In the first appointment, your dentist will evaluate your teeth and put together a treatment plan. Then, by removing a small portion of enamel from the front surface of each tooth, he'll make room for the new veneers to lie flat in the smile. Impressions, x-rays, and images are captured of your teeth for the creation of your veneers.
Porcelain veneers are crafted by an expert in the time between appointments. You'll wear temporary veneers in the time in between. Once your new veneers are ready, you return to our office for their final placement.
Caring for Porcelain Veneers
Help your veneers last for ages by taking excellent care of your new smile. Do you play contact sports (even casually) or grind your teeth at night? It's a smart idea to cover up your teeth with a custom-fitted mouthguard. And while porcelain won't develop decay or infection, the teeth beneath and gums surrounding your veneers can. Continue to brush and floss regularly, and visit your dentist as recommended every six months for necessary preventive care!
Follow these steps and you'll enjoy your healthy, stable porcelain veneers for a long time to come.
Give Your Smile a Spring Makeover!
Why don't you welcome this unseasonably warm spring with a beautiful smile makeover? Porcelain veneers fit the bill for imperfect front teeth. We invite you to schedule an appointment with your cosmetic dentist in Naples to learn more.