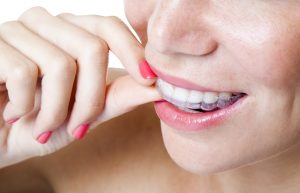 Just because you've matured, doesn't mean you're too old to straighten your smile. In fact, if straighter teeth have been on your mind heavy lately, you may be heading in the best directing for both your oral health and your confidence. Instead of being embarrassed with crooked teeth—or even metal brackets and wires for that matter—try Invisalign clear braces in Naples. Dr. Mark M. Makram offers a revolutionary way to correct the positioning of your teeth without your friends, coworkers—practically anybody—from ever knowing with clear braces.
Who's Invisalign for?
Orthodontic treatments used to be considered only for the youth. Now, more adults are considering straightening their teeth than ever before. Patients realize they can improve their smile without having to endure metal in their mouth for months to years on end. Many times, patients would like to avoid the hassle that metal brackets bring as well. For example, the soft tissue injuries that can occur or a complicated dental hygiene routine. Fortunately, Invisalign in Naples serves our patients with a matured, professional appearance.
How does Invisalign work?
Invisalign clear aligners are created from practically invisible, custom, plastic trays that no one can tell you're wearing. The aligners are fit just for you and apply a constant, gentle pressure to guide teeth into the correct locations. You wear each set of aligners for about two weeks, removing them only to eat, drink, brush, and floss. You heard right—you can remove them! As you replace each aligner with the next in the series, your teeth will move gradually until they have straightened into the correct places.
Why would I want Invisalign?
At the Office of Mark M. Makram, DDS, we truly value and understand the importance of having a dazzling smile. Crooked teeth do not hold back your confidence, it affects your first impression on people and even your oral health.
There's a higher chance of plaque collecting between crooked or overly crowded teeth, increasing your risk of developing gum disease. It's safe to say if you decide to get Invisalign, you won't regret it. It's one of the best decisions you can make for your personal self-assurance and dental health. Besides the tremendous boost in confidence, Invisalign offers these other benefits:
You spend less time at the dentist than with traditional braces, only visiting our office every six to eight weeks.
You experience comfortable orthodontics provided by plastic aligners that are flexible enough to offer a snug fit and strong enough to shift your teeth.
You can still enjoy your favorite meals and snacks with limited dietary restrictions.
Your hygiene routine at home stays simple, easy, and convenient because your aligners are removable.
You can smile without worry because your custom aligners are virtually invisible.
Boost Your Confidence with a Clear Brace Treatment!
If you're experiencing issues with gapped teeth, a misaligned bite, or overcrowded teeth, you should discuss this clear brace solution with Dr. Makram. Our office can help you solve the problems with your smile in a modern, discreet way. To find out if Invisalign clear aligners are the right treatment for you, contact our office today.