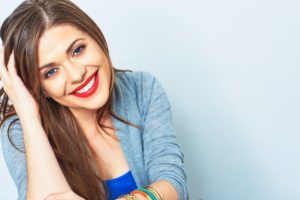 They say that beauty is only skin deep, but we beg to differ. Being beautiful is just as much about your attitude as it is about the way you look. With a warm and winning personality, you're bound to make a lasting impression! But what if you hesitate to show off your inner awesomeness because of some cosmetic flaw, perhaps because you're unhappy with the way your teeth look? Your cosmetic dentist in Naples, FL can transform your smile and give you the confidence boost you need to conquer anything that 2018 throws at you. Let's take a look at a few cosmetic services that can help you start the year with a new spring in your step and a new sparkle in your mouth.
Teeth Whitening
Teeth naturally become stained overtime, whether it is from everyday habits like drinking coffee or perhaps even because of a genetic predisposition to yellow teeth. Instead of living with the dull appearance of your chompers, you can turn to your cosmetic dentist for help.
Zoom! in-office whitening is a safe and effective process that can brighten your teeth by several shades in less than an hour. It uses a special light combined with a professional strength bleaching solution to obliterate stains new and old.  If you're careful about maintaining your whitened smile, the results can last for years.
Porcelain Veneers
Veneers are the secret behind many celebrities' can't-stop-staring-at-it grins. They're thin pieces of porcelain that your dentist permanently attaches to the fronts of your teeth. They can disguise all sorts of flaws, including discoloration, cracks and chips, minor misalignment, and teeth that are too small.
Veneers can last for up to 15 years before they need to be replaced if you care for them well. They're also resistant to stains, so you'll still be able to enjoy your favorite wines, coffees, and berries in moderation without worrying about how they'll affect your teeth (just be sure to rinse with water afterward).
Invisalign
This convenient treatment uses a series of clear thermoplastic aligners to get your crooked teeth back where they belong. On average, it takes about a year to complete its work. By the time 2019 rolls around, you could be the proud owner of a set of gorgeously straight pearly whites.
Cosmetic Bonding
What if you like everything about your smile except that one pesky tooth with the chip out of it? Cosmetic bonding might be right for you. Your dentist will apply a tooth-colored composite resin to the tooth. When the resin hardens, the chip will be history. Bonding only takes one appointment at your dentist's office and although it doesn't last as long as porcelain veneers, it costs less and still looks beautiful.
Want to feel like a boss in 2018? Your cosmetic dentist might be able to help!
About the Dentist
Dr. Mark Markram is your cosmetic dentist in Naples, FL. He is an artist as much as he is a doctor, and he takes pride in helping his patients love their smiles. If you would like to talk to him about getting a smile makeover, please contact our office at 239-513-9990.