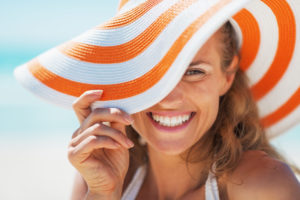 Ah, summer — the time for popsicles by the pool and long nights under the stars. This is a great time of year, when we get to slow down and just relax for a second. But as tempting as it can be to throw all your cares to the side for a bit while on vacation, that can spell trouble for oral health. You are as vulnerable as ever to tooth decay, gum disease, and other oral health hazards during June, July, and August. Protect your smile with these 4 summer tips from your dentist in North Naples!
#1: Be Prepared
If you're planning to take a trip somewhere this summer, make sure you pack all the essentials to keep your teeth and gums clean on the road. It's easy to leave the toothbrush, paste, or dental floss at home — and even more so if you have an electric toothbrush that requires a separate charger. You may be on vacation, but now is not the time to take a break from good oral hygiene. Write a list of all the things you need to pack and double check it before you leave. If you still manage to forget something crucial, be prepared to pick up a replacement on the road. It's worth the small expense!  
#2: Rinse
Ice cream, popsicles, and other sweet treats are ubiquitous at summer time. They may taste great, but these items also put your teeth at a higher risk of developing cavities and gum disease. If you can't brush your teeth soon after eating a sweet treat, at least rinse your mouth out with water. It's a small step that can be a big help in washing away sugar that can build up and weaken the tooth enamel.
#3: Protect Your Sporty Smile
If you are getting ready to join a summer football, soccer, or other league, consider investing in a customized mouthguard to protect your teeth while you're on the field or court. Sports injuries are the most common cause of dental emergencies like knocked out teeth, broken teeth, and other painful problems, and a plastic mouthguard is a small investment that can pay off big in the long run.  
#4: Visit the Dentist
Summertime is a great moment to visit the dentist — and you can bring everyone else in, too, to make it a family affair. Start off the hot summer months knowing your smile is healthy and free of cavities and gum disease or finish the season off with a checkup and cleaning to make sure you escaped without any serious issues.
Everyone loves summer — but if you don't take the proper precautions, it's possible your smile might not. Keep these 4 tips in mind to feel confident you're keeping your smile healthy!
Meet the Practice
Dr. Mark M. Makram is a general dentist offering comprehensive services to friends and families in Naples, FL. To learn more about his services or to schedule a summertime checkup and cleaning, you are invited to contact his office by calling 239-513-9990 today.