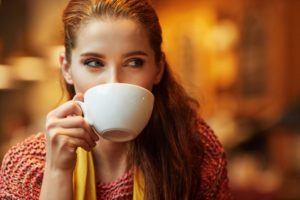 Once September rolls around, companies begin marketing the heck out of pumpkin and it's close relative pumpkin spice. Technically, pumpkin spice contains no pumpkin in it whatsoever, but that doesn't mean you won't eat a slice of pumpkin pie or another pumpkin flavored treat in the near future. This has dentists and people asking: Is pumpkin good or bad for your teeth?
To keep you informed, take note of the following products and whether they could put your smile at risk this fall from a dentist in North Naples.
What Products Contain Pumpkin?
After visiting your local grocery store just once during the fall, you're probably surprised by how many foods utilize pumpkin or pumpkin spice, especially as a flavoring. While it's fine to soak in the aromas of a scented candle, soap or scented oil, here are a few of the most common foods to utilize pumpkin and its unique spice:
Coffee
Tea
Donuts
Granola bars
Chocolate
Yogurt
Cereal
Scones and other desserts
For the most part, pumpkin is fantastic for your overall health. It's rich in fiber, making it great for heart health. It also contains vitamin A, an essential vitamin for your eyes, skin, bones and of course your teeth. The problem is not necessarily the pumpkin itself, but the large amounts of sugar and starch that are typically found in the products using it. These largely negate the beneficial aspects of the pumpkin and therefore need to be consumed in moderation.
How Can Pumpkin Products Affect Your Teeth?
If you're not solely relying on pumpkin spice lattes or other sugary products to get your pumpkin fix, you'll be glad to learn that pumpkin offers many benefits for teeth. Even recipes like pumpkin pie are a much healthier alternative to the other desserts you eat during the fall season. The worse culprit in pumpkin pie is the starchy and sugary crust, not so much the pumpkin itself.
With that being said, here are a few benefits pumpkin can provide your smile:
Zinc – Promotes healing in the mouth (i.e. damaged tissues or bleeding gums)
Fiber and Vitamin A – Improves saliva flow
Vitamin C – Works to maintain a healthy immune system and fight off infections
Magnesium and Calcium – Strengthens enamel
How to Make These Products Better for Your Teeth
If you're upset about missing out on your pumpkin spice latte, don't fret! There are many ways to get your fix without putting your mouth at great risk. If you absolutely must get your seasonal latte, opt for nonfat milk, no whipped cream, and only a single pump of syrup. This will work to reduce your sugar intake and do your smile a big favor. You can also take advantage of:
Pumpkin Spice Bagels and Coffee
Crunchy Granola Bars with Pumpkin Spice Flax
Squash Soup with Pumpkin Seeds
Looking for ideas to enjoy this wonderful seasonal fruit? Schedule an appointment today!
About the Author
Dr. Mark Makram earned his dental degree from the University of New York at the Buffalo School of Dental Medicine. He enjoys delivering the North Naples community the best dental care possible all year round, so feel free to schedule an appointment to keep your oral health in check this fall! You can do this through his website.