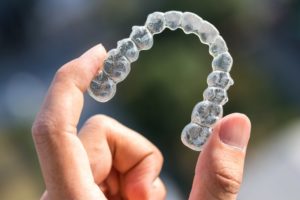 If you have misaligned teeth, you may have been thinking about orthodontic treatment for a while now. Invisalign in North Naples is popular among adults because it is discreet and effective. It can transform your crooked teeth, boosting your confidence and helping you to feel great about what you see in the mirror. But did you know that Invisalign offers more than just aesthetic benefits? Let's talk about why you should visit your dentist this spring to talk about this remarkable treatment.
Health Benefits of Straighter Teeth
Straight teeth aren't just great for your self-confidence. They're also a huge asset to your oral health.
Since straight teeth are easier to clean, you'll be at a decreased risk of gum disease and cavities.
Straight teeth fit well together when you bite down, which decreases the risk of tooth breakage and premature wear and tear.
Straight teeth are less likely to get food particles and odor-causing bacteria stuck in them, so you'll find it easier to maintain fresh breath.
Well-aligned teeth can help you avoid painful TMJ problems.
Why Choose Invisalign for a Straighter Smile?
Traditional orthodontic treatments can straighten teeth and thereby deliver all of the abovementioned benefits. However, Invisalign offers an easier, more convenient treatment process. Some of its most outstanding benefits include:
Since Invisalign trays are removable, you won't have to navigate around a bunch of brackets and wires when you're brushing and flossing.
Invisalign's removable nature allows you to eat and drink anything throughout your treatment period.
Invisalign does not have any metal parts that could irritate the soft tissues in your mouth.
Invisalign has a faster average treatment time than traditional braces.
Most Invisalign checkups last just a few minutes; you'll never have to take a big chunk out of your day to get your braces tightened.
Invisalign FAQ
How Should I Take Care of the Invisalign Trays?
You should rinse your trays after each meal before you replace them in your mouth. You should also clean them nightly with Invisalign's cleaning kit or with mild, clear soap and water.
How Long Does Invisalign Take?
The average total treatment time is one year. However, your treatment time may be longer or shorter depending on the extent of your orthodontic problems. You may begin to notice results in just a few months.
How Much Do I Need to Wear the Aligners?
You should only take Invisalign out when you're eating or drinking anything other than plain water. Ideally, you should keep your aligners in your mouth for 20 – 22 hours each day.
How Much Does Invisalign Cost?
The cost of Invisalign is in the same ballpark as that of traditional braces. When you visit your cosmetic dentist in North Naples for a consultation, you'll receive a personalized estimate for your treatment.
Are you ready to take charge of your oral health and help your smile reach its true potential? Visit your dentist this spring to ask whether Invisalign is right for you.
About the Author
Dr. Mark Makram is a general and cosmetic dentist who has been helping patients achieve healthier smiles for over 25 years. He is a certified Invisalign provider and would be happy to help you say goodbye to your crooked smile and hello to a healthier mouth. To learn more about Invisalign or to schedule your consultation, contact our team at 239-513-9990.