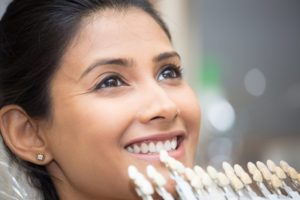 You've just left the dentist office sporting your new porcelain veneers. Ready to show off your new smile to the world, you begin to wonder just how long this will last? Before you get down in the dumps or depressed about the thought of your previous smile coming back to haunt you, there's good news. Porcelain veneers in North Naples can last a long time if properly taken care of, which means you must commit to maintaining good oral health. Want to know what you can do to ensure their longevity? Read on to find out.
How Long do Porcelain Veneers Last?
If you're looking to brighten your smile or hide any impurities, porcelain veneers may be a great solution for you. These thin, wafer-like coverings blend in beautifully with the rest of your smile, making it almost impossible for anyone to notice you've had work done on your teeth. Not only does it take a minimal amount of time to have these permanent fixtures placed (as few as three visits!), but they can last for 10-15 years!
What Can You Do to Make Them Last Longer?
To ensure your veneers stay in place for as long as possible, there are a few things you should commit to doing:
Practice good oral hygiene habits. Your veneers act just like regular teeth, so you'll need to be sure you're brushing twice a day for two minutes and flossing between your teeth at least once a day.
Visit your dentist. Now that you have a new smile, it's important to adhere to your regularly scheduled appointments. Visiting your cosmetic dentist in North Naples is important to making sure your veneers are in good shape, as well as the rest of your mouth.
Never use your teeth to open things. Stop using your teeth to open bags or loosen a knot. This can cause serious damage to your veneers, which will require a visit to the dentist in the hopes something can be done to fix it.
Protect your teeth. Do you play sports? Are heavily involved in outdoor activities? Make sure to wear protective mouth gear. A mouthguard is a great way to keep your veneers safe should you take a ball to the face.
Talk to your dentist about a nightguard. If you're prone to grinding or clenching your teeth, you definitely need to seek treatment. Teeth grinding can wear down your veneers, shortening their lifespan. Your dentist will able to offer an appropriate treatment solution should you need it.
Why Are Porcelain Veneers a Great Investment?
Not only do porcelain veneers help to cover any impurities you wish to hide, but they are permanent. That means, you don't have to worry about them slipping, coming out, or having to visit the dentist every few years for a new set. Their capacity to withstand the day-to-day pressure we put on our teeth is a testament to their quality and ability to last for more than a decade.
While they are an investment, if you're committed to taking proper measures to keep them healthy, safe, and in place, it's one you'll be glad you made.
About the author
Dr. Mark Makram earned his dental degree from the State University of New York at Buffalo School of Dental Medicine. A skilled general, cosmetic, and implant dentist, he works to build strong relationships with his patients and delivers quality service and care. Offering preventative, restorative, cosmetic, sedation, and emergency dentistry services, you can rest assured, he and his team will give you a healthy, glowing smile. To learn more about Dr. Makram, or for questions about our services, visit our website or call (239) 513-9990.