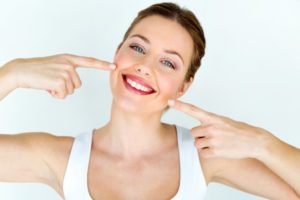 It should come as no surprise that your smile is one of the first things people notice. This is also one of the many reasons people turn to their dentists for help in improving their smiles. Whether it's with crowns, teeth whitening, dental bonding, or porcelain veneers, there's a solution for everyone when it comes to restoring and transforming smiles. Maybe you have some unsightly cracks or chips in your teeth that you want to be covered, and you know your two best options are dental bonding or porcelain veneers in North Naples. Do you know the difference? Do you know which option is best for you? Let us explain.
What is Dental Bonding?
Using the same type of tooth-colored composite resin as many dentists use for fillings, dental bonding can repair chipped or fractured teeth. Worried it won't blend in with the rest of your smile? The composite resin can be matched to the natural color of your teeth, and it is sculpted and molded by your cosmetic dentist in North Naples. This allows your dentist to effectively hide any imperfections before it hardens.
What is great about dental bonding is that the procedure is completed in one visit, and you'll leave having stronger, natural-looking teeth.
What Are Porcelain Veneers?
If you have chips, cracks, stains, minor misalignment, or gaps in your teeth, porcelain veneers are a great way to completely transform your smile. No one wants a smile they constantly have to hide, which is why these thin shells are great for covering up anything you don't want to show. In three visits, your cosmetic dentist in North Naples will use high-quality, durable porcelain to create a new smile.
By removing a small amount of enamel from your teeth, your dentist will be able to bond the veneer to your tooth, masking any imperfection and giving you a permanent, natural smile. The porcelain allows for light to reflect in a way that makes it impossible for others to detect that you have veneers.
How Do I Know Which Option is Right for Me?
Both options can give you the smile you want; however, there are a few differences that may help you decide if one treatment is better for you than the other. Here's how these to differ:
Porcelain Veneers
Solve more cosmetic issues (gaps, minor misalignments, chips, cracks) than dental bonding
Resistant to stains
Longer-lasting
Permanent solution
More expensive
Dental Bonding
The process is simpler and more affordable
Minimal tooth enamel is removed
Can change the shape of your tooth, correct chips or cracks, and fill gaps
More susceptible to stains
Cannot give you a smile makeover
Remember, no matter which option you choose, your teeth will look and feel natural once the treatment is complete. If you're looking for a complete transformation in your smile, veneers are the way to go, but if only a few teeth need fixing, it might be a more affordable option to consider dental bonding. The option is yours, but if you have questions, don't be afraid to talk to your dentist.
About the Author
Dr. Mark Makram earned his dental degree from the State University of New York at Buffalo School of Dental Medicine. A skilled general, cosmetic, and implant dentist, he works to build strong relationships with his patients and delivers quality service and care. Offering preventative, restorative, cosmetic, sedation, and emergency dentistry services, you can rest assured, he and his team will give you a healthy, glowing smile. To learn more about Dr. Makram, or for questions about our services, visit our website or call (239) 513-9990.