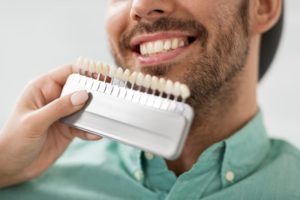 You just finished having your porcelain veneers in North Naples placed, and you couldn't be happier with the results. You finally have the smile you've always dreamed of, and the best part is it didn't cost a fortune or take years to achieve. Now that you're ready to show off your new smile, you may be wondering, "What can I do to make sure it lasts?" You've made a valuable investment in your new teeth, so it's natural you want to extend their life as long as possible. To help you accomplish that, let us share ways in which you can take care of your porcelain veneers and prolong the life and health of your mouth.
How Long Do Porcelain Veneers Typically Last?
Although it would be nice if porcelain veneers lasted a lifetime, unfortunately, they do not. Your typical veneer lasts anywhere from 5 to 10 years. But it is important to remember that the greater care you take of your veneers, the longer they will last.
How Can I Keep Them Healthy?
To ensure your oral health stays in check and your veneers continue to remain in optimal condition, there are a few things you can do to ensure their longevity. These include:
Brushing your teeth every morning and night for a full two minutes. This will keep bacteria off your teeth and prevent decay.
Flossing your teeth at least once a day. Using a correct method of flossing, you can remove bacteria and food particles from between your teeth, preventing cavities from developing and gum disease.
Rinse with an antiseptic mouthwash twice a day. This will flush out any leftover particles that were missed while brushing and flossing.
Visit your cosmetic dentist in North Naples every six months for a routine checkup and cleaning. This will not only allow him to address any problems that are occurring, but it will also give him the opportunity to evaluate your veneers and make sure they're in good shape.
Wear a mouthguard if you play sports or engage in any outdoor recreational activities. This will protect your veneers from potential damage.
Use a nightguard if you are prone to teeth grinding or clenching while sleeping. Veneers can crack, so if you have bruxism, it is highly advised you speak to your dentist about wearing a nightguard.
Avoid or limit stain-causing foods or drinks. While veneers are much more stain-resistant than regular enamel, over time, they can show stains and discoloration. It is best if you try to avoid dark-colored foods and beverages.
Stop smoking. Not only is this a bad habit for your overall health, but it can lead to staining and discoloration on your veneers and shorten their lifespan.
By following these tips, you will be able to maintain a beautiful, healthy-looking smile for years to come. You've made the investment in your smile, now ensure that it lasts as long as possible by taking care of your porcelain veneers.
About the Author
Dr. Mark Makram earned his dental degree from the State University of New York at Buffalo School of Dental Medicine. A skilled general, cosmetic, and implant dentist, he works to build strong relationships with his patients and delivers quality service and care. For patients looking to transform their smile, Dr. Makram offers porcelain veneers. These thin shells can hide any impurities and give you a show-stopping smile. To learn more about Dr. Makram, or for questions about our services, visit our website or call (239) 513-9990.