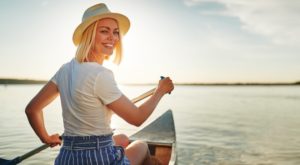 You couldn't be more excited about your family vacation to Orlando. Not only are you ready to spend your days embracing your inner child at the local theme park, but you can't wait to take a drive over to Cocoa Beach and soak up some of the rays. We all know vacations are a time for eating whatever you want, staying up late, and saying "so long!" to the normal routine, but when it comes to your oral health, that's one routine you should make sure to stick to? Why? Read on to find out what your dentist in North Naples has to say on the topic and discover 4 ways you can keep your smile healthy on your family vacation.
Why is It Important to Stick to an Oral Hygiene Routine on Vacation?
We get it: The Mickey Mouse ice cream is calling you, and the late-night music at City Walk is keeping your feet tapping. It's a vacation and all you want to do is be free from the restraints of everyday life. Everyone deserves a break from the norm every now and then, but the one thing that doesn't is your mouth.
It doesn't take much time for your teeth and gums to be taken over by bacteria. When you become lax on your brushing and flossing routine, tooth decay and gum disease can become potential problems. While on vacation, feel free to enjoy "the finer things in life," but don't neglect your oral health. Each morning when you wake up and every night before you go to bed, make sure you are spending the appropriate amount of time taking care of your oral health.
How Can I Keep My Smile Healthy on Vacation?
If you're unsure of how you can stay on top of your smile while rubbing elbows with Donald Duck and Cinderella, let us help by sharing these 4 ways:
Pack the Necessities: What this means is that you shouldn't forget your toothbrush, toothpaste, dental floss, and mouthwash. If you wear a retainer or nightguard, don't forget to pack these, too. These are the basic tools you'll need every day of your vacation. The good news is that if you forget anything, you should be able to find them at a local drug store, but just in case you're traveling somewhere more remote, don't forget these items!
Be Mindful of What You Eat and Drink: Yes, you can enjoy that ice cream or glass of red wine, but don't overindulge. Too much sugar can wreak havoc on your oral health, allowing bacteria to breed and burrow into the crevices of your teeth and gums. If you choose to eat something with lots of sugar, make sure to either brush your teeth immediately after you're finished or rinse your mouth out with water.
Keep a Routine: This one is often most difficult for vacation-goers because everyone wants to throw the routine out the window, but remember, each morning and every night, you can take a few minutes to keep up with your oral hygiene routine. You're probably already in the bathroom anyway, so give your teeth and gums the care they deserve.
See the Dentist Before You Leave: While this isn't technically a tip you can use while on your vacation, it's worth noting that getting a checkup and cleaning before you leave will put your oral health on track. It's also beneficial to see your dentist about any problems or issues you're having before leaving on vacation. You certainly don't want to be facing a dental emergency while trying to have fun with your family.
Summer is a time for fun and family, and there's no better way to enjoy both than with a vacation. Keeping these tips in mind will not only ensure you maintain healthy teeth and gums, but you'll also be able to sport a stellar smile for all those family photos.
About the Author
Dr. Mark Makram believes the cornerstone of a healthy smile is preventive care. This is why he offers quality therapies to his patients, ensuring their teeth and gums remain in optimal shape for years to come. Earning his dental degree from the State University of New York at Buffalo School of Dental Medicine, Dr. Makram is a skilled general, cosmetic, and implant dentist, and he works to build strong relationships with his patients and delivers quality service and care. For questions about our services, visit our website or call (239) 513-9990.