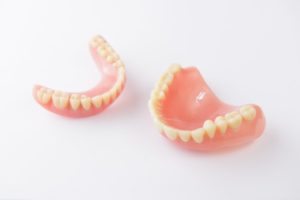 It should come as no surprise that over time, your dentures are worn down and need a repair. Although this tooth replacement solution is effective, your artificial smile isn't mean to last forever. Daily chewing, eating, and speaking can cause them to have cracks or chips, and with changes in facial shape, it can also cause your dentures to fit poorly. Find out if it's possible to repair your dentures in North Naples and if implant-retained dentures are right for you!
What Can Cause Dentures to Become Worn?
Dentures are one of the most popular and common methods of tooth replacement dentistry. Their ability to restore your facial appearance as well as your smile is just one of the many benefits dentures offer. However, because they are not a permanent solution, it will be necessary to have them relined, readjusted, and even repaired over time.
If you have dentures but are unsure as to why they become so worn over time, here are a few of the reasons:
Poorly Fitting Denture: If it isn't the correct size to start with, or, if over time your facial shape changes, you'll find that your denture no longer fits properly. When this happens, unnecessary force is placed on your jaw. The uneven bite along your teeth will also result in fractures or breaks to your dentures.
Dropping Your Dentures: Another way they can become damaged is by accidentally dropping them. It's best to keep a towel in the sink or fill the sink with water while cleaning your artificial teeth. This will reduce the likeliness of breaking them.
Chewing: You have to eat, so there's no avoiding this particular reason. The bite force you place on your jaw and teeth each time you bite down will cause normal wear and tear on your dentures, so over time, it's no real surprise that they need to be repaired.
How Can They be Repaired?
Most dentures are made from an acrylic resin, which means it's not only durable and natural-looking, but it is also repairable. When it comes to fixing your dentures, your dentist in North Naples will most likely reline them as part of the repair process. If your denture needs to be reset, it is probably because your gums and jawbone have changed. When they shrink, your denture will no longer feel right in your mouth, so your dentist will need to add extra material in order to make it fit properly. This is called "relining," but this can only happen if it's caught early enough.
Should there be more damage to your dentures or too much change has occurred to your mouth, your dentist will need to send the denture to the dental lab in order to have it repaired.
What Are Implant-Retained Dentures?
If you've already been through the process of repairing and restoring your dentures and want a more permanent solution, you can find help with implant-retained dentures. If you know much about dental implants, these posts are made of titanium and serve to mimic your tooth's root. Not only do they stimulate your jawbone, giving it what it needs to support your tooth, but they look and feel completely natural.
Patients who want to make the switch from traditional dentures to implant-retained dentures will need to have an examination by the dentist to ensure there is enough bone strength. If so, 4-6 implants will be surgically placed along the jawbone. After several months of healing and allowing the implants to fuse to the bone, you'll return to our office and have the custom-made denture secured into place.
Whether you want to continue with your regular dentures or switch to a newer, permanent option, trust that your dentist will be able to help you keep your smile, repairing any problem areas along the way.
About the Author
Dr. Mark Makram earned his dental degree from the State University of New York at Buffalo School of Dental Medicine. Believing in the importance of healthy smiles, Dr. Makram offers comprehensive restorative therapies and replacement teeth to renew your smile. Whether you're looking to get traditional dentures or implant-retained dentures, he will help you find the dental solution that's right for you! Visit our website or call (239) 513-9990 to discuss your options with Dr. Makram.