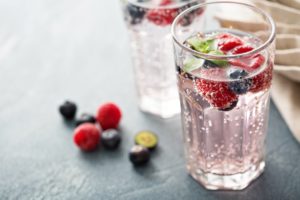 You've decided to quit soda and other sugary drinks in order to lose weight. Instead, you've opted to start adding artificial sweeteners and flavors to your water. They might be beneficial to your waistline, but are they better for your teeth? A dentist in North Naples says no. Read on as we explore this subject in more detail.
Can Bottled Flavored Waters Hurt My Teeth?
Every drink can be placed somewhere on the pH scale based on how acidic it is. Some drinks, such as sodas, juices, and sports drinks, are more acidic than others, like water. Frequently consuming very acidic drinks can wear away at tooth enamel, leaving you susceptible to decay and sensitivity. The flavoring added to many sparkling waters actually makes them more acidic than normal water, meaning they can more easily erode your enamel.
What About Still Flavored Waters?
You might think that the carbonation is what increases the acidity of the water, but it's actually the flavoring. Even still water with flavoring can potentially erode the teeth if you consume it frequently enough. Research has shown that unflavored water, whether sparkling or not, are very unlikely to wear down enamel.
Is Flavored Water as Bad as Soda?
Sodas are incredible acidic, many more times so than any flavored water. If you're cutting soda out of your life, you're making a good decision for your overall and dental health.
Is It Okay to Drink Flavored Water in Moderation?
It's still possible to enjoy flavored water without much risk to your teeth, but the key is moderation. If you're going to consume these beverages, it's better to drink it all in one sitting rather than constantly sipping throughout the day. When you sip over and over again, it exposes your teeth to the acid in the drink over and over again. Avoid holding or swishing these drinks around in your mouth at all costs. That bathes the teeth in acids.
If you want to be extra healthy, try substituting some flavored water for plain water. You can also try sipping sparkling beverages through a straw. This way they bypass the teeth and minimize potential damage.
As with anything that could be considered unhealthy, be sure to consume flavored beverages in moderation. Ask your dentist for more tips on how to stay hydrated without hurting your teeth.
About the Author
Dr. Mark Makram earned his dental degree from the State University of New York at Buffalo School of Dental Medicine in 1993. Four years later, he opened his practice in Naples, FL. He is a Fellow of the International Congress of Oral Implantologists, as well as a member of the American Dental Association, the Florida Dental Association, and the Collier County Dental Association. To learn more about how to healthily stay hydrated this summer, visit Dr. Makram's website or call (239)-513-9990.