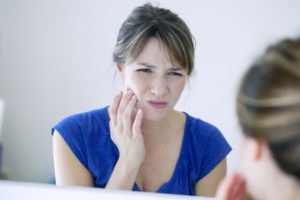 When it comes to methods of replacing missing teeth, dental implants are truly in a class of their own. They allow you to live your life exactly the way you were before you lost your tooth. They look and feel just like your natural tooth. However, they're not perfect. Sometimes they can get an infection called peri-implantitis. If you have an implant, it's crucial that you read this guide to preventing dental implant infections in North Naples.
What Is Peri-Implantitis?
Peri-implantitis is an infection that can be quite serious. If you have swelling or inflammation around your implant site, you may have this condition. It can result in bone loss in that area, a loose implant, and ultimately, implant failure, meaning your implant may fall out. After going through the surgery to get it placed, you don't want it to get compromised by an infection.
Who Is at Risk for Peri-Implantitis?
Some patients are more likely than others to get an infected dental implant site. Those include patients who:
Smoke or chew tobacco
Have diabetes
Have osteoporosis
Have HIV/AIDS or any other condition that compromises their immune system
Have had gum disease in the past
How Can You Prevent a Dental Implant Infection?
If you have one of the diseases listed above, don't worry. You may still be able to keep potential infections at bay. Simply follow these steps:
If you have a compromised immune system, talk to your primary care physician about how to manage your disease. Ask them for tips on how to handle getting a dental implant.
If you have previously had gum disease, make sure to practice good oral hygiene. This includes regular brushing, flossing, and visits to your dentist for checkups and cleanings.
If you smoke or chew tobacco, this would be an excellent reason to quit. Doing so can prevent any issues from developing in your new smile. If you need help kicking the habit, ask your dentist or doctor for resources for quitting.
How Can You Take Care of Your Dental Implant?
Caring for your dental implant is very similar to caring for a natural tooth, in that you have to:
Brush twice daily with fluoride toothpaste and a soft-bristled brush
Floss once a day
Rinse with antibacterial mouthwash at least once a day
Limit sugary foods and drinks
See your dentist twice a year for a cleaning and checkup to make sure your implant is doing alright
Peri-implantitis is a serious condition that you want to avoid at all costs. Follow the steps listed above and you should be good to go.
About the Author
Dr. Mark Makram is a graduate of the prestigious Misch International Implant Institute. He has also earned a Fellowship in the International Congress of Oral Implantologists. To learn more about how to take care of your implant and prevent infection, contact Dr. Makram here or call (239) 513-9990.