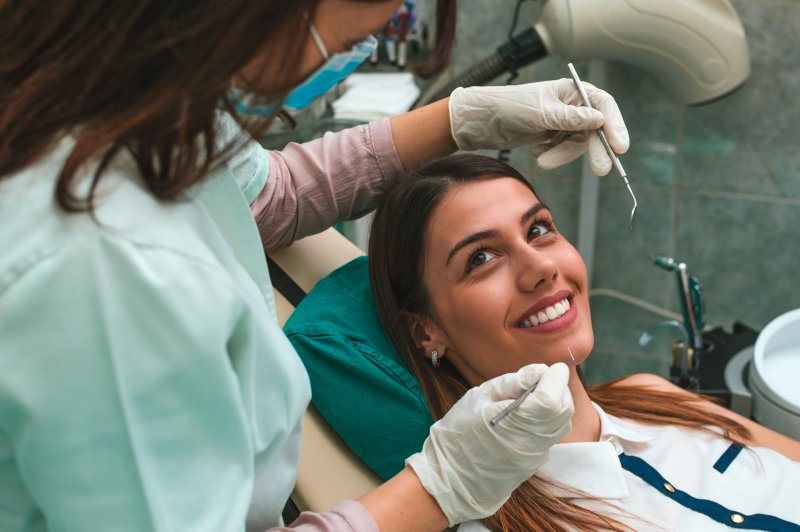 Did you know that October is National Dental Hygiene Month? Naturally, as children (and adults) get excited about Halloween and all the tasty candy that will be filling Trick-or-Treat buckets, dentists are encouraging patients to be mindful of their oral health with the upcoming holiday. To ensure you don't go overboard with all the sugary sweetness you'll want to consume, here are 5 dental hygiene tips in North Naples for keeping your teeth and gums in the best shape possible this month.
The Importance of Good Oral Hygiene
No one wants bad, unhealthy teeth. When stains, discoloration, chips, cracks, or decay plague a person's mouth, not only can their self-esteem plummet, but their mouth and body can be at risk. Everything from tooth decay to gum disease can have negative effects on your overall health, including:
Heart disease
Diabetes
Neurological disorders
Respiratory disease
Cancer
Not only is it vital that proper oral hygiene habits be practiced at home, but you'll need to schedule time twice a year to see your dental professional for a checkup and cleaning. Preventive care is the only way to prevent problems before they start, and by keeping your oral health in check, you'll be able to enjoy your smile for a lifetime.
5 Dental Hygiene Tips
Looking for ways to improve your brushing, flossing, and overall oral hygiene results? Here are 5 tips to follow:
Use a soft-bristled toothbrush and adjust it to a 45-degree angle to make sure you are cleaning the entire surface of your teeth as well as your gums. This includes the outer, inner, and chewing surfaces of your teeth.
Brush your tongue to remove harmful bacteria and food particles. This will prevent halitosis (bad breath) from forming.
Gently floss between your teeth at least once a day. Make sure to use the correct technique, as you could damage your teeth and gums.
Rinse after your brush and floss your teeth. Use an antimicrobial mouthwash to help reduce the risk of tooth decay and infection.
Drink plenty of water throughout the day to keep yourself hydrated and your salivary glands working properly. This will also be beneficial after eating or drinking if you are unable to brush your teeth, as it can rinse away any residue that could be harmful to your teeth if left too long.
Don't Forget Your Six-Month Visits
It is recommended that you see your dentist for regular checkups and cleanings every six months. The reason is that plaque and tartar can form on your teeth and gums quickly, and in order to prevent problems or stop them in their tracks, a thorough cleaning must be completed.
When you arrive for your appointment, your dentist will examine your teeth, gums, jaw, neck, and throat, as well as other parts of your facial structure. Not only will he be looking for signs of tooth decay and gum disease, but he will also be checking for any tumors or abnormalities that could signal oral cancer. Once he finished, a dental hygienist will remove plaque and tartar build-up before flossing and giving your teeth a final polish.
You take care of the rest of your body, so why not take the steps necessary to maintain your oral health? You only get one set of natural, healthy teeth. Make time to establish proper dental habits and enjoy an improved, beautiful smile for the rest of your life.
About the Author
If you want a healthier, more beautiful smile, Dr. Mark Makram is the dentist who can take care of all your dental needs. Providing high-quality, comprehensive services, his first tip for better oral health is preventive care. From regular dental checkups and cleanings to proper at-home oral habits, these are the tried and true techniques to ensuring healthy teeth and gums. As a skilled and trained dental professional, Dr. Makram has years of experience helping patients with their smiles. Earning his dental degree from the State University of New York at Buffalo School of Dental Medicine, Dr. Makram is a skilled general, cosmetic, and implant dentist, and he works to build strong relationships with his patients. For questions about our services, visit our website or call (239) 513-9990.