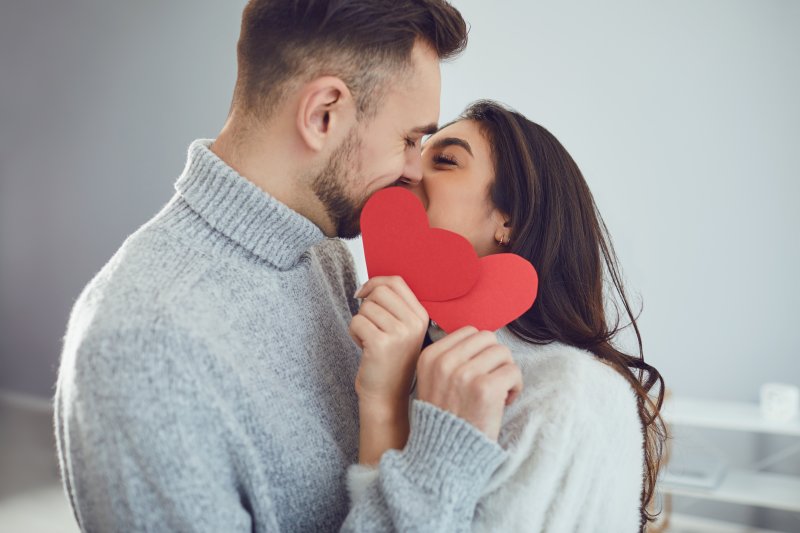 Are you hoping your Valentine's Day will be sealed with a kiss? If so, you'll want to take the extra time to make sure to avoid bad breath in North Naples so your smooch is nothing but perfect at the end of the night. But a foul odor coming from your mouth isn't the only thing you'll want to avoid. From germs to cavities, your partner could be the recipient of unwelcome guests if you're not careful. To make sure your Valentine's evening is simply the best, here are a few tips you can follow to ensure sparks fly.
Don't Spread Cavities
This may seem odd and even impossible, but kissing can potentially cause cavities to arise in another's person's mouth. How so? If your mouth isn't properly cleaned and bacteria is growing and spreading, guess what? It's doing the same thing to your partner the moment you kiss. Saliva production increases during this time, so it's easy to pass along germs and anything else that can cause dental problems. To prevent this from happening, make sure you're brushing your teeth twice a day and flossing at least once to remove any harmful bacteria from your smile.
Keep Your Breath Smelling Fresh
Bad breath is the one thing that will send your date running the other direction. As you eat throughout the day, bacteria forms within your mouth and can live on your tongue and in small crevices of your smile. If left untreated, you'll be faced with a displeasing aroma coming from your mouth. Prevent it by rinsing with an antimicrobial mouthwash after brushing and flossing.
Avoid Sharing Toothbrushes
It can be exciting to take that step and move in with the one you love but just because you're now sharing a space and a lot of other things doesn't mean you should share a toothbrush. These carry germs that are best kept out of your partner's mouth.
Brighten Up Your Smile
If you want your smile to shine bright on Valentine's Day, talk to your dentist about teeth whitening in North Naples. Whether you choose an in-office treatment or an at-home kit, you will see faster results that will leave your smile looking its best for your upcoming date night.
Say No to Smoking
If you're a smoker and are having trouble kicking the habit, make a resolution to quit today. Not only is it harmful to your overall health, but it makes you more susceptible to gum disease and staining. If you need assistance trying to quit, talk to your dentist or doctor who can give you tips on how to finally say "no more" to cigarettes and other tobacco products.
Make an Appointment
Just as important as all the other tips listed is seeing your dentist for a regular checkup and cleaning. These visits not only allow your dental professional to check your smile for any potential issues (i.e. tooth decay, cavities, gum disease, and oral cancer), but it also gives them a chance to remove plaque and tartar buildup from around your gum line. By the time you leave, your smile will look and feel better than before.
If you agree to follow these tips, get ready to pucker up for Valentine's Day! That kiss may just be the start of a beautiful relationship.
About the Author
Dr. Mark Makram earned his dental degree from the State University of New York at Buffalo School of Dental Medicine. He is a skilled general, cosmetic, and implant dentist, and he works to build strong relationships with his patients and delivers quality service and care. Dr. Makram and his team know how important maintaining a healthy and beautiful smile can be, especially when it comes to Valentine's Day. If you want to make sure your mouth is ready for that special kiss, feel free to contact us and let us help improve your smile before the big night. For questions about our services, visit our website or call (239) 513-9990.