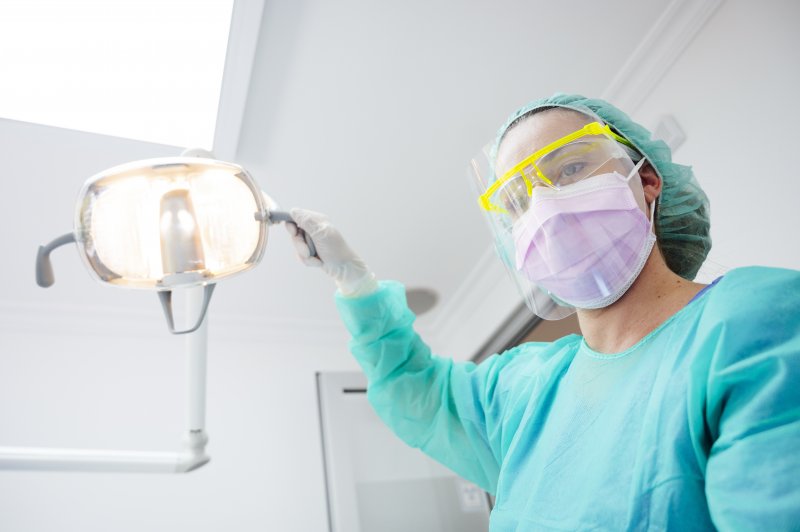 As dental offices begin to reopen across the country, you may discover various changes the next time you go in for a regular checkup and cleaning. No longer will you see dentists simply put on a mask and gloves before taking care of your smile. Instead, additional precautions will be taken to keep everyone safe and healthy. So what exactly are dental teams doing in preparation for this grand reopening? A dentist in North Naples shares what you can expect so that you feel confident and comfortable.
Establishing a Safety Champion
Many manufacturing and construction-based companies have what is called a "Safety Champion." Essentially, every member of the team is responsible for making sure they understand and practice necessary safety precautions to minimize the possibility of harm and danger. You as well as your dental team can all be Safety Champions. How? Your dentist will make sure everyone is doing their part to:
Keep all dental instruments, equipment, and surfaces disinfected and sanitized
Wear proper protective personal equipment (PPE) when treating patients
Practice social distancing when possible
Follow all manufacturer guidelines and safety protocols when cleaning and sanitizing reusable instruments
You can be a Safety Champion by following all the appropriate guidelines set forth by your dentist's office, including:
Washing your hands with soap and water for at least 20 seconds
Coughing/sneezing into a tissue and/or your elbow
Wearing a mask and practicing social distancing from other patients and staff members
Rescheduling your appointment if you feel ill or begin to show symptoms of COVID-19
Preparing a Staff Planning Meeting
Everyone must be on the same page before your dentist reopens to the public. It is likely your dental team will engage in a staff meeting to become familiar with the updated policies and guidelines as well as steps to be taken to ensure the health and safety of both staff members and patients. These meetings will keep everyone updated on any changes and protocols recommended by the CDC. Some of the following changes that staff may expect to see include:
Cross-training to accommodate employees who are sick or out of the office
Infection control changes
Changes with workweek schedules
Additional training or retraining requirements
Performing Daily Health Checks of Staff Members
Don't be surprised if your dentist's office provides information about their commitment to COVID-19 safety standards. One of these will include a recommendation by The Centers for Disease Control and Prevention (CDC) to perform daily temperature checks and employee COVID-19 screening. This dental safety protocol in North Naples will ensure the hygienist, assistant, and dentist performing any type of treatment is free of any symptoms that could potentially put you or others at risk.
Wearing Personal Protective Equipment (PPE) and Changing Clothes at Work
Probably the most obvious change you will notice is team members wearing PPE at all times. From the front desk staff to your dentist, some form of protective equipment will be worn. You can expect your dentist, dental hygienist, and dental assistant to be wearing a disposable gown, protective eyewear, facial masks, a face shield, and gloves.
Some dental offices may also require their staff to bring their work clothes with them and change at the office.
Although you will not witness all these protocols and precautions taking place, you can rest assured that your dentist is going the extra mile to keep his dental office as clean and safe as possible.
About the Author
Dr. Mark Makram is a dentist in North Naples who takes pride in maintaining a safe, comfortable, and healthy environment for his patients. With the recent events brought on by COVID-19, he and his team are going above and beyond to ensure anyone who seeks dental care during this time feels confident and secure. As you begin to prepare for your first visit, make sure to visit our website or call (239) 513-9990 to find out what steps you need to take before you arrive.