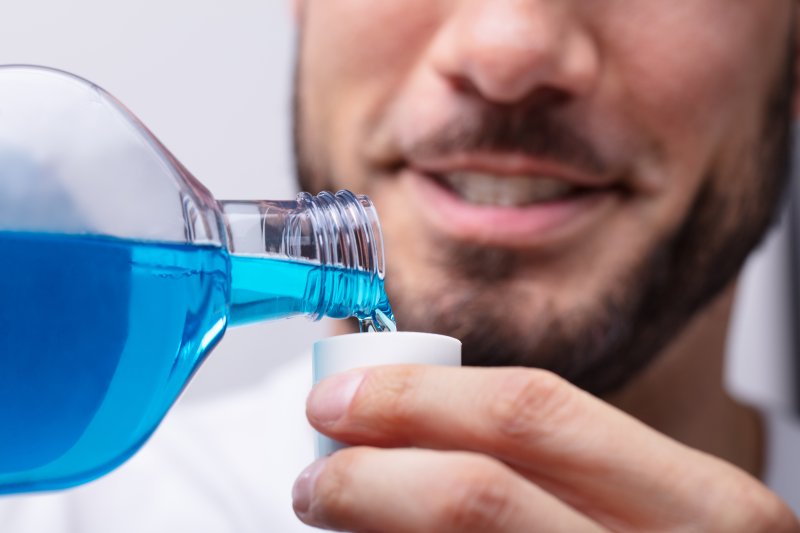 Rinsing with an antimicrobial mouthwash is one of the most crucial aspects of any oral hygiene routine. Unfortunately, it is also one of the most forgotten. While brushing and flossing are designed to scrub and remove bacteria from the teeth and around the gum line, rinsing allows for thorough washing of the mouth, effectively flushing out anything left behind and reducing the potential for bad breath, gum disease, and tooth decay. If you are preparing for an upcoming dental appointment, learn why your dentist in North Naples is requesting that you perform a rinse before your arrival.
Mouthwash and COVID-19: What's the Connection?
It is important to understand that no brand or type of mouthwash will kill the COVID-19 virus. Because most products only contain 20% alcohol, it is only capable of eliminating germs that can cause bad breath, plaque, and gingivitis.
It is considered to be one of the most effective products you can use to reduce the risk of developing gum disease, tooth decay, cavities, and halitosis (bad breath), which is why your dentist highly recommends it be incorporated into your daily oral hygiene regime.
So, if mouthwash can't eliminate COVID-19, what is the real benefit of using it before going to your next dentist appointment?
The Reason Behind the Rinse
If the question above has you scratching your head, this dental safety protocol in North Naples will benefit you and your dentist, helping to keep you both better protected. How? Let's explain:
An antimicrobial rinse is designed to eliminate as many harmful germs and bacteria left behind from brushing and flossing. Since plaque and tartar can wreak havoc on your oral health, causing gum disease and tooth decay, it can also cause your immune system to weaken. As a result, you become more susceptible to infection and have a harder time fighting it off. Because COVID-19 remains a threat, individuals with compromised or underlying health conditions are at a higher risk of contracting the virus. For individuals who are elderly and considered most "at-risk" for COVID-19, this essential step is not only beneficial at preventing bacterial pneumonia, but it also works to improve quality of life as well as oral health.
By agreeing to maintain good oral hygiene and performing a rinse before your appointment, you are removing any harmful bacteria that can be easily spread to another individual, especially your dentist and the dental team.
About the Author
Dr. Mark Makram and his team are dedicated to helping patients achieve and maintain healthy, beautiful smiles. While COVID-19 remains a threat, he is working diligently to ensure a safe environment for all who visit by increasing sanitation efforts, making sure staff wear appropriate personal protective equipment, and asking patients to perform antimicrobial rinse upon arrival. By following these specific protocols and guidelines, he and his staff can safely and successfully provide optimal dental care. If you are preparing for an upcoming appointment and would like to know more about the various precautions being taken to better protect you and others, visit our website or call (239) 513-9990.