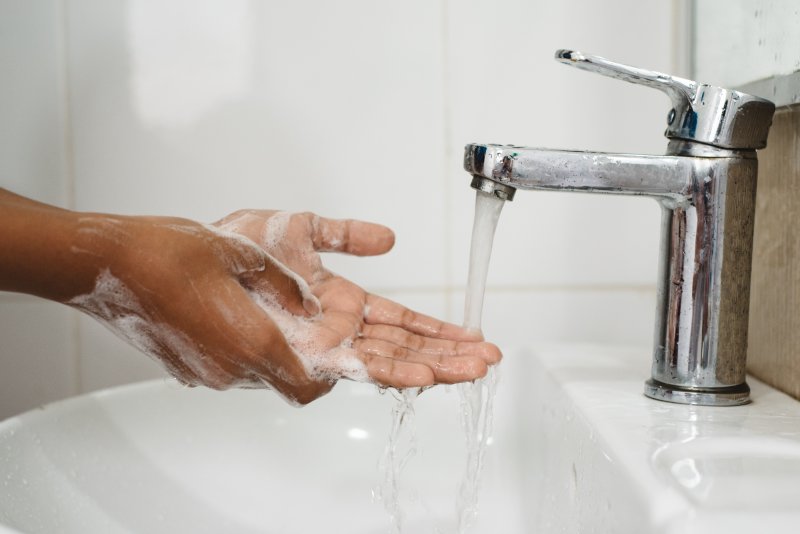 With COVID-19 forcing everyone to rethink their current hygiene practices, it's become more important than ever to take a second look at your handwashing habits as well as your use of hand sanitizers. Perfecting your technique when performing these habits and using these products matters for your overall health and can protect those around you. To make sure you are keeping COVID-19 at bay, both inside and outside your home, a dentist in North Naples is happy to explain the best tips to keep in mind and debunk common misconceptions about hand hygiene.
Handwashing: The Best Way to Keep Hands Clean
Handwashing seems like a relatively simple practice, but surprisingly, many people don't do it properly. This results in hands that are insufficiently clean, and therefore spread germs and contribute to the pandemic. Thankfully, improving your technique is easy and doesn't cost any money to do.
For starters, make sure to wet your hands completely before applying a generous amount of soap and rubbing them together. To effectively clean them, count for the next 20 seconds while you wash the palms and backs of your hands, your fingertips, and the areas in between your fingers. Remove any jewelry and don't forget to scrub underneath your fingernails where dirt and germs can easily collect. Keep in mind that you don't have to scrub hard as this can irritate the skin.
After rinsing your hands, completely dry them off using disposable paper towels. While you can use a washcloth at home to dry your hands, you'll want to replace it if it's shared among others in your family or after it has been used a few times.
Hand Sanitizer: When Should You Use It?
Hand sanitizer is a great way to clean your hands when a sink is not nearby. However, many people assume that its use can replace handwashing entirely, which is not true. Nothing is more effective at cleaning hands than soap and water, especially if your hands are greasy or dirty.
When choosing a hand sanitizer, make sure that it contains at least 60% alcohol. This is what is needed to kill germs and viruses such as the coronavirus that causes COVID-19. If you use hand sanitizer frequently, make sure to have hand lotion at the ready, as alcohol-based hand rubs can dry out the skin.
When using hand sanitizer, follow the instructions on the label. In most cases, you'll need to rub your hands for about 20 seconds after applying a generous about to your palms. Once the liquid has fully dried, you'll know you've rubbed your hands for long enough.
Staying sanitary in and outside your home is not a difficult process, but there is a correct way to do it. The extra seconds you spend cleaning your hands can potentially save us months of quarantine time!
About the Author
Dr. Mark Makram is a highly skilled dentist who is dedicated to keeping his patients safe inside and outside the office, especially during the COVID-19 pandemic. While he works hard to create a safe and healthy environment for patients, he's happy to educate them on proper hand hygiene just as much as oral hygiene. To learn more about his dental safety protocol in North Naples or schedule an appointment for your next checkup, cleaning or other treatment, feel free to contact him through his website!