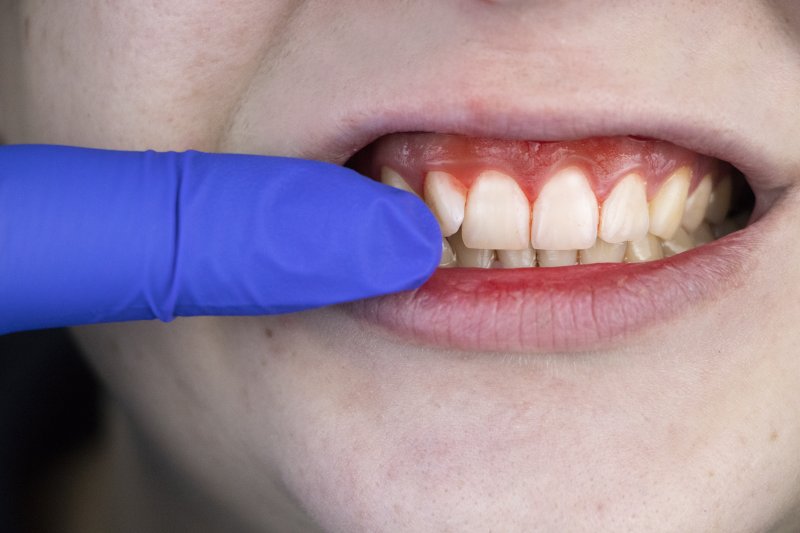 Learning you have gum disease in North Naples may not be the greatest news you'll hear from your dentist. Depending on the severity, it is possible you can easily reverse the symptoms with regular cleanings and practicing good oral habits at home. However, if conditions are more advanced and resulting in gum pocket formations, weakening bone, loose teeth, you may be on the brink of a more serious problem that can negatively impact your health and weaken your immune system. As a result, you may be more susceptible to contracting COVID-19. If you want to avoid bleeding gums and enjoy a healthier smile and body, learn why your six-month checkups and cleanings are crucial during this time.
The Link Between Gum Disease and COVID-19
COVID-19 is a highly contagious virus that causes respiratory illness. While it may seem unfathomable that a bacterium that forms in the mouth and attacks the gum tissue, bone, and teeth can be a factor in making you more vulnerable to COVID-19, it's true.
When plaque-causing bacteria develop in the oral cavity, it begins to attack the soft oral tissues. What can start as redness, swelling, and minor bleeding can quickly escalate into a more aggressive problem known as periodontitis. Should this occur, the infection and inflammation that forms can begin to damage the bone and teeth before entering the bloodstream and traveling throughout the body. One of the potential targets is the respiratory system.
If your immune system becomes weakened as a result of gum disease, you are at a much greater risk for serious lung problems, especially if you contract COVID-19.
Why the Six-Month Checkup is Important
If you want to avoid the potential for gum disease and keep your immune system healthy and strong, it is advised that you visit your dentist in North Naples every six months. Here's why:
Regular dental checkups and cleanings allow your dentist to examine your oral cavity in its entirety and identify problem areas early on. By catching and treating these issues before they worsen, you can stay ahead of the issue and avoid more serious, complex, and costly restorative treatments in the future.
Working alongside your dental professional will only serve to benefit your smile, but you must be committed to improving your oral habits at home as well. While regular cleanings are important, you will need to take on the responsibility of brushing twice daily, flossing at least once a day, and rinsing to avoid a bacterial buildup that will only wreak havoc if allowed to spread.
During this difficult time, it is important to do everything you can to take better care of your body and smile. By using the right techniques and listening to your dentist, you can be sure to enjoy greater oral and overall health.
About the Author
Dr. Mark Makram earned his dental degree from the State University of New York at Buffalo School of Dental Medicine. Dr. Makram and his team see patients every day who are suffering from gum disease. With millions of Americans unknowingly living with it, the impact it can have on your immune system can lead to more serious health-related problems, including COVID-19. If you want to keep your gum health in optimal condition and avoid the potential for respiratory illness, visit our website or call (239) 513-9990.