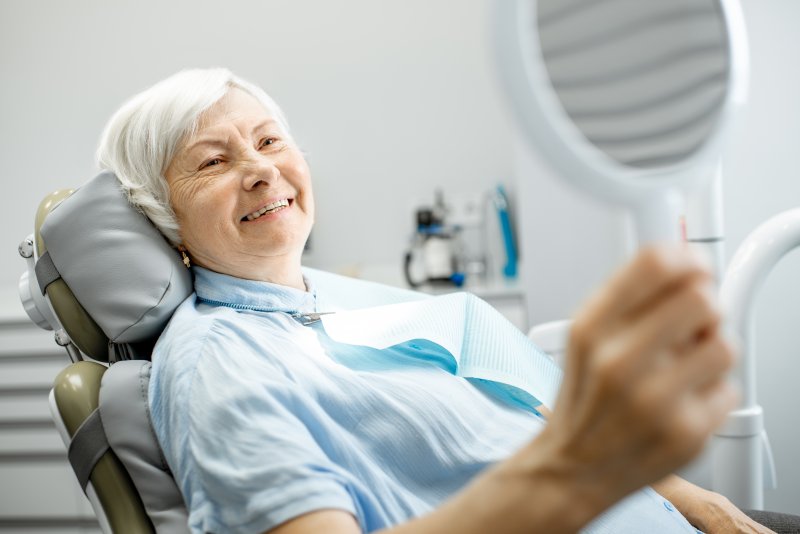 What are you thankful for this year? If you're like most people, the first thing that may come to mind is that it's almost over! It's safe to say that 2020 won't be missed, but if you continue to count your blessings amid a global pandemic, you might also say family, friends, and even good health. But what your smile? If you're living with dental implants in North Naples, you have a lot more to be grateful for than you think. Read on to learn why you should also be giving thanks for this permanent tooth replacement solution.
Dental Implants Offer Greater Oral Health
Your teeth and ability to chew are what keeps your jawbone sturdy and strong. When a single tooth goes missing, the alveolar bone begins to weaken over time, resulting in a shift of your natural teeth as well as the potential for changes in your facial shape. By replacing it with a titanium post that mimics the natural tooth structure, you can continue to stimulate the bone and maintain a more youthful appearance.
Dental Implants Can Keep You Smile Longer
Whereas traditional tooth replacement solutions (i.e. dental bridge, dentures) require frequent replacements over time, the actual post of your dental implant is designed to last decades if not a lifetime with proper care. While you will likely need to have your restoration replaced, the actual implant remains fused with your bone and tissue, which means it won't be going anywhere anytime soon as long as you properly clean and maintain it over the years.
Dental Implants Make It Possible to Enjoy All Your Favorite Foods
While you are encouraged to stay away from hard, crunchy foods because of the damage they can cause to real and artificial teeth, dental implants give you more freedom to enjoy the foods you love. Unlike dentures that can easily slip or fall out if you apply too much pressure or make it difficult to eat coarser foods, dental implants are strong and stable. Their permanent placement in your jawbone allows for improved bite functionality, making it possible for you to chew and eat with greater ease.
Dental Implants Restore Your Confidence
These small titanium posts do more than improve your oral health and help you eat your favorite meals. They also restore your confidence, which is crucial no matter if you're a working professional or stay-at-home-parent. Missing teeth in North Naples can be detrimental to your self-esteem, so feeling good about the way you look makes a big difference in how you feel about yourself as a whole. Knowing your facial shape, oral health, and smile are healthy and free of damage will help you to exude the confidence you deserve this holiday season.
While you may be ready to see 2020 in your rearview mirror, don't let the year go by without calling attention to those things you're most grateful for, one of which should be your smile.
About the Author
Dr. Mark Makram earned his dental degree from the State University of New York at Buffalo School of Dental Medicine. A skilled general, cosmetic, and implant dentist, he works to build strong relationships with his patients and delivers quality service and care. For patients with missing teeth, Dr. Makram can transform smiles with the help of dental implants, which is a more superior restorative option as opposed to more traditional treatments. If you are living with a smile that could benefit from a more permanent tooth replacement solution, visit our website or call (239) 513-9990.