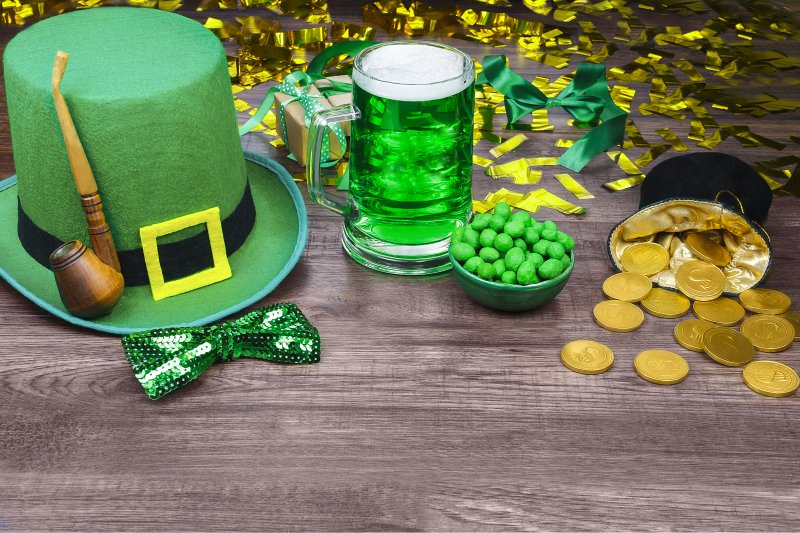 Even if you're not Irish, there's a good chance you plan to enjoy the festivities surrounding St. Patrick's Day in North Naples. From the hearty food and celebratory dancing to raising a toast of your favorite alcoholic beverage and shouting, "Sláinte," it's a day full of fun and maybe even a little bit of luck, but if you're not careful, your indulgences can spell disaster for your teeth. Before you start planning your St. Patty's Day party, learn what you can do to enjoy the celebrations without harming your smile.
Minimize Stains by Avoiding Green Beer and Stouts
While it might be a tradition to consume your favorite green beer on St. Patrick's Day, the truth is that the green food coloring found in your favorite beverage can turn your teeth an interesting shade of green. The same can be said for enjoying a delicious stout that contains malt and barley. Its dark color can linger on your tooth enamel, resulting in discoloration. Anything that contains darkly pigmented colors can penetrate your tooth enamel and leave a lasting mark on your pearly whites. As a result, you may be asking your dentist about available teeth whitening services to help you regain a whiter, brighter smile.
Practice Good Oral Hygiene Habits
It may be tempting to fall into bed after a day or evening full of drinking, but if you want to prevent dental emergencies in North Naples, you'll brush, floss, and rinse your teeth first. The reason for this is that alcohol is highly acidic, and it can easily attack your tooth enamel, causing it to break down and result in cavities. If you've been drinking most of the day (or night), your teeth never get a break from the onslaught of acid attacks. This is why it is best that you practice good oral habits before you go to bed to prevent the possibility of a nagging toothache that can leave you spending additional time and money on restorative care.
What to Do if an Emergency Occurs
Depending on how hard you celebrate this St. Patrick's Day, it's important to know what to do should you face a dental emergency. Whether it is a bothersome toothache, or you somehow ended up with a knocked-out tooth, you'll want to make sure that you contact your dentist in North Naples as soon as possible. If the result is a tooth that is no longer in its socket, you'll want to retrieve it and rinse it off before attempting to put it back into place. If this does not work, make sure to place it between your cheek and gums inside your mouth or in a container of milk. This will help keep the tooth moist.
Bring it with you to your appointment, and your dentist will determine if the tooth can be saved. It is important that you get to your dentist's office within an hour of the incident if you want to try and save your tooth.
Don't be afraid to join in on the fun this St. Patrick's Day. Just be mindful of what you consume and may the luck of the Irish be with you!
About the Author
Dr. Mark Makram believes the cornerstone of a healthy smile is preventive care. This is why he offers quality therapies to his patients, ensuring their teeth and gums remain in optimal shape for years to come. Earning his dental degree from the State University of New York at Buffalo School of Dental Medicine, Dr. Makram is skilled at creating and transforming smiles using a variety of preventive, restorative, and cosmetic services. If you are ready to make changes to improve your oral health in 2021, visit our website or call (239) 513-9990.