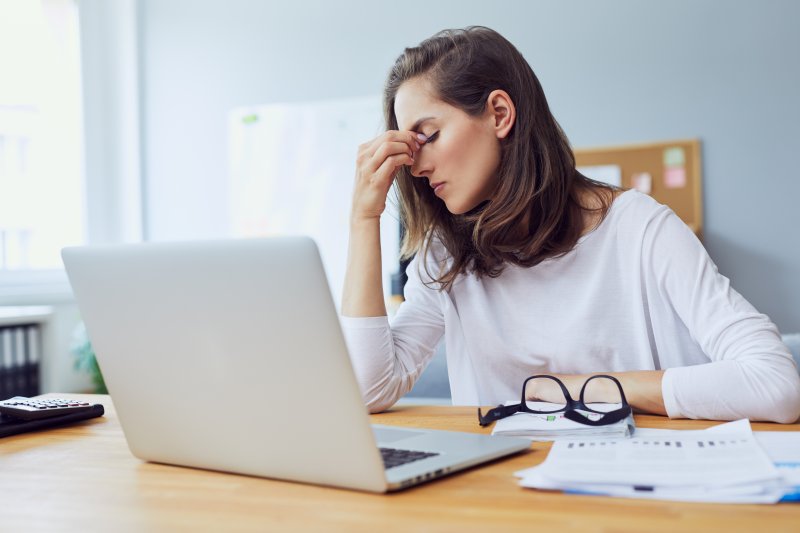 It's no surprise that the COVID-19 pandemic is causing more children and adults to experience stress like never before. For more than a year, the way we go to work or school, interact with others, and simply function day-in and day-out has drastically changed, resulting in significant changes to our physical, mental, and emotional health. Unfortunately, the mind and body are not the only areas negatively impacted. Your mouth is also vulnerable. If you want to find ways to prevent stress during COVID in North Naples, a local dentist shares 4 things you can do to minimize the anxiety and worry in your life, safeguard your smile, and improve your overall health and wellbeing.
Potential Problems That Can Develop Because of Stress
April is Stress Awareness Month. If you're like most people, the impact of COVID in 2020 and 2021 has left a lasting impact, especially as it pertains to stress. When steps are not taken to alleviate triggers and maintain a sense of normalcy, problems throughout the mind, body, and mouth can occur. Some of the most common issues you may experience include:
Teeth grinding (bruxism) because of stress
Tooth decay or gum disease because of oral hygiene neglect
Temporomandibular joint disorder (TMJ/TMD) as a result of bruxism and increased stress
Sleep apnea, as it is most commonly associated with TMJ, insomnia, restless sleep, etc.
4 Ways to Improve Your Mouth, Mind, and Body
To keep from experiencing any of the above-mentioned problems, you must take the appropriate actions to safeguard your oral and overall health. Consider the following tips:
Maintain routines – This can involve everything from continuing to brush, floss, and rinse each morning and evening to making sure your children (and you) go to bed at the same time every night. This sense of normalcy will help keep you and your family grounded during chaotic times.
Eat healthy foods – Junk food and high amounts of sugar will only cause you to feel less energized and more fatigued. Keep everyone in your home working toward a healthier lifestyle and immune system, especially if you want to avoid contracting COVID-19. Swapping out chips, candy, and soda for water, fruits, vegetables, and dairy will benefit your teeth, gums, and waistline in the long run.
Spend time together as a family – Instead of everyone watching videos on their tablets or phones, go on a walk together or play games. Not only does this offer great quality time, but it keeps you and your loved ones from mindless activities that can lead to depression and more stress. You might even consider making your oral hygiene routines a family affair by turning on music and dancing while brushing!
Continue to see your dentist in North Naples – While it may not make sense to see a dentist when dealing with stress, the truth is that maintaining your six-month dental checkups and cleanings will help mitigate problems should they occur. If signs of TMJ, bruxism, or even gum disease and tooth decay are evident, your dentist can identify ways to treat the problem and get you back to enjoying a healthier, more beautiful smile.
Don't let the events of what is going on in the world cause you to be negatively impacted by stress. Take the right steps to safeguard your mind, body, and smile, and watch how your oral and overall health begin to improve.
About the Author
Dr. Mark Makram earned his dental degree from the State University of New York at Buffalo School of Dental Medicine. He is a skilled general, cosmetic, and implant dentist, and he works to build strong relationships with his patients and delivers quality service and care. Dr. Makram and his team know how stress can negatively impact your smile, which is why he is committed to providing optimal preventive services and helpful tips to minimize anxiety and keep your oral health on the right track. If the continued worry about COVID-19 is causing you to experience problems with your teeth and gums, visit our website or call (239) 719-2836.