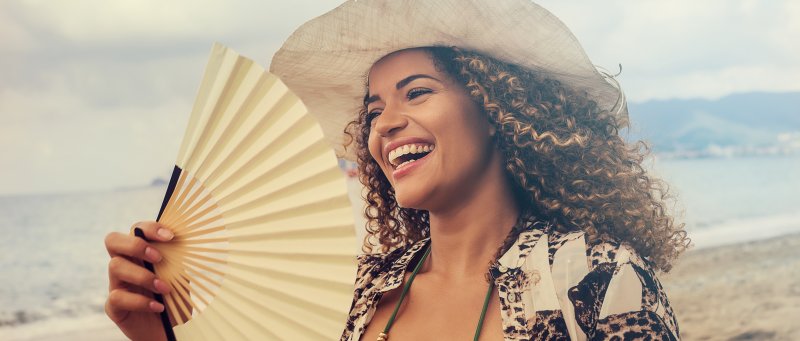 Are you preparing for an upcoming vacation getaway with family or friends? Do you want to capture photo-worthy moments that will last a lifetime? Want to look back at those photos one day and be happy with your smile? You can! With veneers in North Naples, you can rid your teeth of any flaws and embrace the renewed confidence you deserve. Read on to learn how these thin porcelain restorations can get you ready for a fun and exciting summer.
Why Choose Veneers?
As you continue packing for your week-long vacation to the Keys or sunny beaches on the east coast, you'll want to make sure your smile looks and feels its best. While it's always a good idea to see your cosmetic dentist in North Naples for a general checkup and cleaning before you go, you should also inquire about veneers if you want to hide some of your imperfections. There are many safe and effective options available that can repair and restore your smile, but if you want a more permanent solution that truly transforms your pearly whites, you cannot go wrong with veneers. Here's why:
They Fill in Gaps – Even minor gaps can be eliminated with the help of these thin shell coverings. Customized to your liking, your cosmetic dentist can easily apply your veneers to cover small gaps and give you a more uniform appearance.
They Cover Stains – If stains and discoloration are the results of too many early morning coffees, veneers can quickly hide these unsightly imperfections, giving you a whiter, brighter smile.
They Hide Cracks and Chips – Over time, wear and tear to your tooth enamel can lead to minor cracks or chips. Instead of resorting to a dental crown that requires a more invasive procedure, you can turn to veneers to cover the damage.
They Create a Straighter Appearance – While orthodontics is the most proven method to fix crooked, misaligned smiles, your issue may be more of an aesthetic problem than one that hinders your oral health. If so, veneers can be a great way to create a straighter, more perfectly aligned smile without the metal brackets or wires.
How to Maintain Your New Smile
While on vacation, you'll want to make sure you take proper care of your veneers to ensure they not only remain firmly in place but maintain their beautiful, natural appearance. To do this, make sure you:
Keep up with your oral hygiene routine of brushing twice each day, floss at least once a day, and rinse with an ADA-approved mouthwash.
Avoid smoking or using tobacco products.
Limit your consumption of dark-colored beverages and foods (If necessary, drink through a straw to minimize the contact between your teeth and the liquid)
Wear a mouthguard if you are prone to grinding your teeth at night (bruxism)
Do not eat ice
By choosing to have veneers put into place before your big vacation, you can expect to have a smile that free of imperfections and one that is the envy of others.
About the Author
Want your smile to shine during your upcoming vacation? Dr. Mark Makram and his team are equipped to provide beneficial cosmetic services to help you achieve the smile of your dreams. With veneers, we can hide problem areas of your teeth and give you a fully transformed appearance that will have you exuding confidence. As a skilled cosmetic dentist, Dr. Makram earned his dental degree from the State University of New York at Buffalo School of Dental Medicine. His passion for improving and enhancing smiles is why he is so popular among residents of Naples and its surrounding communities. To learn more about Dr. Makram or the benefits of veneers, visit our website or call (239) 513-9990.