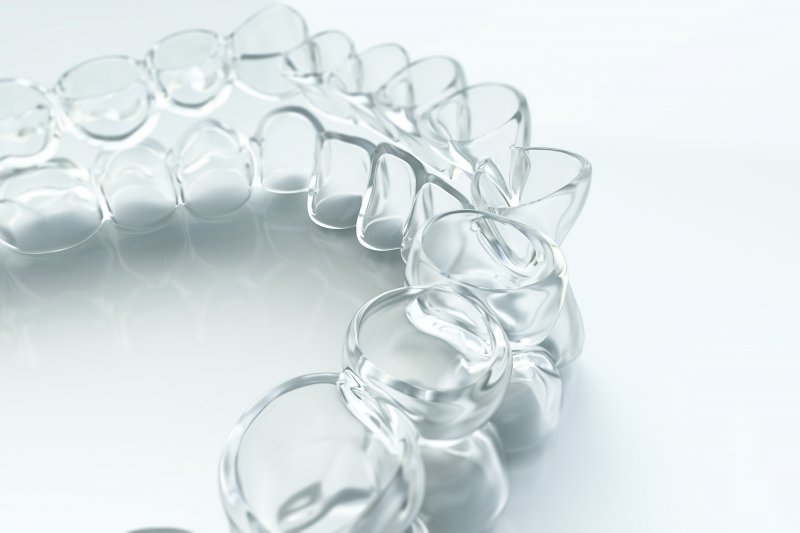 Why do you want to wear clear aligners? If you're like most people, your first answer will likely suggest it's because you want a discreet way to straighten your teeth. While this is certainly a tremendous benefit as opposed to the bulky metal brackets and wires of traditional braces, it is not the only one. What you may not realize is many unique advantages come with this style of orthodontics. To help you better understand, here are 4 additional benefits of Invisalign in North Naples.
Clear Aligners Are Flexible
While you might assume "flexible" means you can bend and twist them (which you shouldn't), it actually means this type of orthodontic treatment is much more flexible than traditional braces. Metal brackets and wires are bonded to your teeth, so they cannot be removed by anyone other than your dentist. However, Invisalign can be easily removed before eating or drinking, making it a much more convenient way to straighten your teeth without worrying about getting food stuck in your braces. And the best part is that the aligners shift your teeth just like regular braces do!
It's Easier to Keep Your Teeth Clean with Invisalign
With traditional braces, you often need a few extra dental cleaning supplies to keep your teeth and oral appliances clean. But not with Invisalign. Instead, you simply remove your trays and clean your teeth like normal using a soft-bristled toothbrush, toothpaste, dental floss, and mouthwash. Then, you use a soft toothbrush, clear soap, and lukewarm water to remove dried saliva and plaque from your aligners. Once you rinse them off, you can reinsert them into your mouth to continue with treatment. This process is much easier than trying to use an interdental brush to navigate underneath wires and around metal brackets!
Follow-Up Visits Are Much Easier With Invisalign
You'll be pleased to know that by choosing Invisalign, your follow-up visits with your cosmetic dentist in North Naples will be much quicker and smoother. How? With traditional braces, the archwire is responsible for moving your teeth and requires tightening with each visit to the dentist. This can lead to days of discomfort. With clear aligners, there's nothing to adjust or tighten. Instead, your dentist will examine your smile and check to make sure everything is progressing as it should.
Invisalign Allows for Fewer Food Restrictions
Traditional braces often come with a list of food dos and don'ts. Eating the wrong thing can lead to damaged braces and a trip to the emergency dentist. However, with Invisalign, you are free to eat all your favorite foods. Why? Because you must remove your trays beforehand! This means you have no orthodontic appliances in your way as you enjoy your meal. Not only does this make it easier to keep your teeth clean, but you reduce your risk of harming your clear aligners in the process.
Yes, Invisalign offers a clear and subtle way to straighten your teeth, but the real benefits extend far beyond appearance. Let these clear braces provide you with a truly unique experience as you grow closer to a healthier, more beautiful smile.
About the Author
Dr. Mark Makram and his team are equipped to provide beneficial cosmetic services to help you achieve the smile of your dreams. As a skilled cosmetic dentist, Dr. Makram earned his dental degree from the State University of New York at Buffalo School of Dental Medicine. His passion for improving and enhancing smiles is why he is so popular among residents of Naples and its surrounding communities. If you're tired of your crooked, misaligned teeth, he can offer Invisalign as a subtle and effective way to straighten your smile. To learn more about Dr. Makram or the benefits of clear braces, visit our website or call (239) 513-9990.