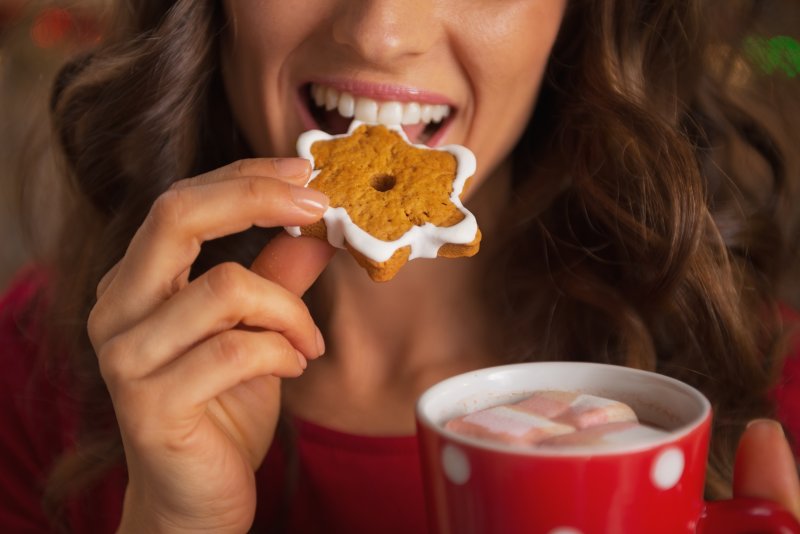 The holidays are full of sweet treats, decadent desserts, and savory meals. When candy canes, gingerbread, eggnog, and cookies are everywhere you look, how can you possibly say no to all the yummy goodness? Although they may be tasty to eat, the truth is you could be putting your smile at risk for serious damage if you eat too much. To avoid a trip to the emergency dentist, limit your consumption of these four holiday foods in North Naples to ensure your smile looks and feels its best in the new year.
Candy Canes
A staple for the holiday season, candy canes may look enticing, but they consist of nothing but sugar, which is a haven for bacteria. The more you eat, the greater your chances of developing tooth decay and cavities. Not to mention, they're extremely hard to eat (literally), and if you're not careful, you could easily break or chip a tooth. It's best to avoid these sweet treats, but if you simply must have one, be careful and remember to brush your teeth!
Eggnog
When it comes to this spirited drink, most people either love it or hate it. Highly popular at holiday parties, eggnog contains high amounts of sugar and plenty of alcohol. While the former will do a number on your teeth if you don't practice good oral hygiene, the latter is less of a concern as long as you do not consume too much alcohol at one time. If you want to be more mindful about your sugar intake this season, try a sugar-free cocktail that won't leave you with cavities.
Cookies, Pies, and Cakes
When attending a holiday get-together or dinner party, you'll be hard-pressed to find a table that doesn't have one or more sugary baked goods on it. The smell and taste are to die for, but the contents can leave you wishing you had said, "no, thanks." With so much sugar, bacteria will grow and spread, causing harmful acids to begin eating away at your tooth enamel. Remember to eat these in moderation and as part of your major meal. You'll also want to make sure you're practicing good oral hygiene habits to minimize your risk for a serious toothache that could land you in an emergency dental office.
Dried Fruit
Found in fruit cakes and other unique holiday treats, dried fruit might sound like a harmless food item, but unfortunately, they can be problematic for your smile. Not only are these filled with preservatives, but they're chewy, which makes them harder to remove from the chewing surfaces of your teeth. Instead of the dried variety, opt for fresh fruit, which has natural sugars and can act like a toothbrush to remove other food particles from your smile.
If you want to avoid seeing your dentist in North Naples throughout the holidays, make sure you're paying attention to not only the type of foods you consume but also how much. Remembering the motto "everything in moderation" is key this time of year. By keeping it in mind, you'll ensure your smile remains healthy and beautiful well into the new year.
About the Author
Dr. Mark Makram earned his dental degree from the State University of New York at Buffalo School of Dental Medicine. Working to build strong relationships with his patients, he delivers quality service and care. Because the holidays can be a hard time for teeth, he encourages his patients to be mindful of what they consume and to stay on top of their oral hygiene routine. If you want to avoid the potential for decay and damage this season, visit our website or call (239) 513-9990.