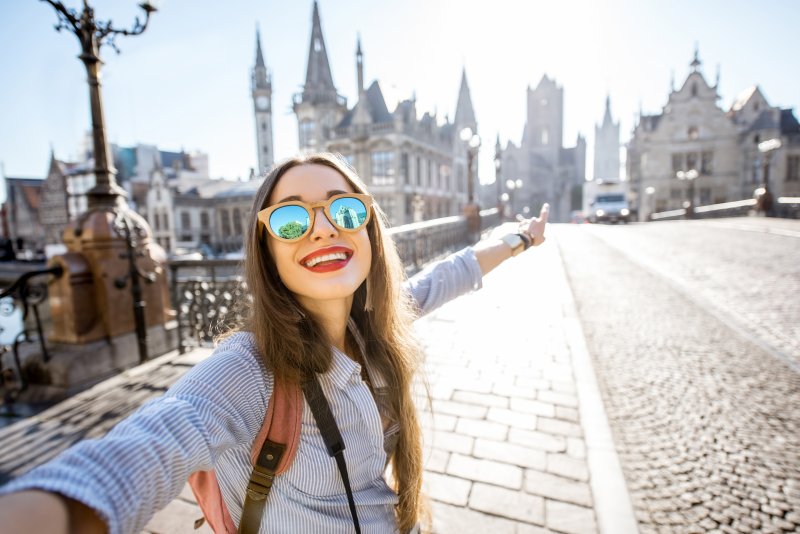 You and your best friend are preparing for an unforgettable trip to some of the most beautiful landmarks in Europe. As you pack, you become more confident in your ability to narrow down your "needs" to one bag. But suddenly, you become a bit concerned about the idea of traveling with Invisalign in North Naples. How will you do it? Will it become a nuisance? A local dentist shares three tips to remember that will make wearing clear aligners while gallivanting around the world simple and easy.
Tip #1: Bring Extra Aligners Just in Case
Before you leave, make sure to pack extra aligners. It can be far too easy to accidentally damage or lose an aligner when rushing to finish a meal or grab your things to get off a plane, train, or leave your hotel room. Having at least one extra set will give you the reassurance of knowing that your teeth won't deviate much, if any, should you lose one or both of your trays.
If you do discover damage to your aligners or lose one along the way, make sure to contact our office as soon as you can. We'll discuss the situation with you and provide guidance as to how you should plan to proceed. We'll also likely schedule an appointment for when you return. This will allow us to examine your smile and determine if we should have new trays created or move on to the next set.
Tip #2: Pack Oral Hygiene Essentials
Although you may be limited on space, you must remember to pack all your oral hygiene essentials. These include your travel toothbrush and toothpaste, dental floss, and mouthwash. You should also plan to throw in a protective case for your aligners when you take them out to eat or drink. Having these within reach will allow you to take better care of your teeth and trays while seeing your favorite sites throughout the day.
Tip #3: Maintain Your Normal Routine
If your plan is to bask in the sun on a local beach all day or run from one landmark to another while in the city, don't let your excitement for the day's activities keep you from taking proper care of your smile. When waking up, make sure you start by cleaning your teeth properly as well as your aligners. Before you go to bed, complete the same process, being mindful not to rush so as to effectively remove any remnants left behind from the day.
Traveling with Invisalign doesn't have to be a burden. Your cosmetic dentist in North Naples can provide advice and suggestions to make your time away easier and less cumbersome, so you can spend more time enjoying the sights while showing off your beautiful smile.
About the Author
Dr. Mark Makram and his team are equipped to provide beneficial cosmetic services to help you achieve the smile of your dreams. As a skilled cosmetic dentist, Dr. Makram earned his dental degree from the State University of New York at Buffalo School of Dental Medicine. His passion for improving and enhancing smiles is why he is so popular among residents of Naples and its surrounding communities. If you're tired of your crooked, misaligned teeth, he can offer Invisalign as a subtle and effective way to straighten your smile. To learn more about Dr. Makram or the benefits of clear braces, visit our website or call (239) 513-9990.