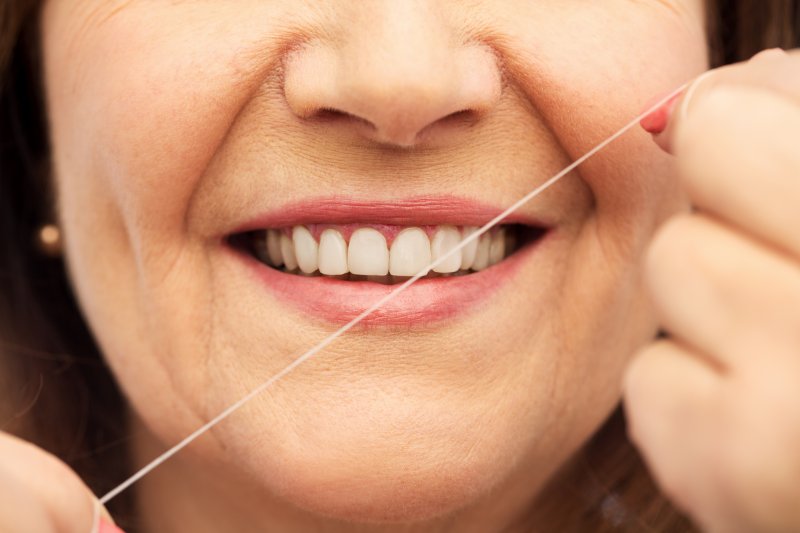 Flossing with dental implants in North Naples doesn't have to be a difficult or unexciting task. Many patients who have permanent prosthetics are instructed to practice this habit each day to avoid developing an infection that might result in dental implant failure. But exactly how can a person floss to ensure a healthy smile for years to come? Here are three tips to consider when it comes to removing bacteria while wearing permanent prosthetics.
Avoid Pushing Downward with Dental Floss
The one thing that brings together the dental implant and gum tissue is a peri-implant seal. Because it does not contain nerves, you may never experience any pain should it accidentally become broken. If this happens, bacteria can easily enter the gums and make their way to the jawbone. Over time, an infection will form and lead to dental implant failure.
This is why it is essential that you do not push downward (or upward) when using dental floss. Instead, you should gently move it back and forth between the teeth to correctly (and safely) remove bacteria.
Consider Alternative Flossing Techniques
If using traditional dental floss is too difficult, you might consider purchasing an oral irrigator (i.e., WaterPik). This allows for pulsating water to push through the device and onto the teeth and gums. The force of the water pushes bacteria and harmful particles out from between teeth, allowing for a healthier, infection-free smile.
If you're unsure which type to buy or how to use it correctly, your dentist in North Naples will be happy to assist in showing you the proper way to use an oral irrigator for maximum effectiveness.
Try a Floss Threader
Depending on the type of restoration you have, it may be necessary to use a floss threader to help you navigate each tooth. To do this, you can feed the threader (and floss) underneath the restoration (i.e., denture or dental bridge) and pull the floss through. Moving it upward and downward along the implants, you can continue this process until you are finished. You'll then need to pull the floss out from underneath your restoration before discarding it.
At first, you may notice that flossing is a bit trickier than before; however, after some practice, you should be able to adequately clean your teeth and keep your smile lasting longer and looking more beautiful each day.
About the Author
Dr. Mark Makram earned his dental degree from the State University of New York at Buffalo School of Dental Medicine. A skilled general, cosmetic, and implant dentist, he works to build strong relationships with his patients and delivers quality service and care. For patients with missing teeth, Dr. Makram can transform smiles with the help of dental implants, which is a superior restorative option as opposed to more traditional treatments. If you are living with a smile that could benefit from a more permanent tooth replacement solution, visit our website or call (239) 513-9990.