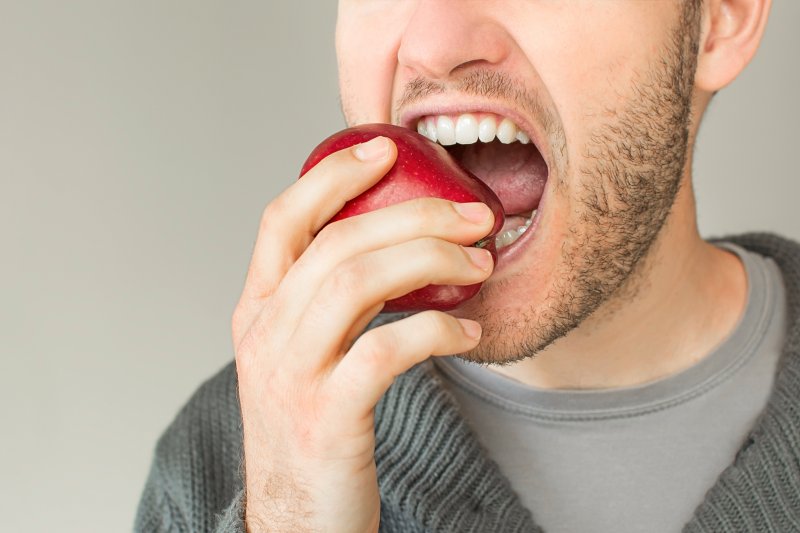 Dentures are one of the most traditional methods of tooth replacement, allowing patients to enjoy a complete and fully functioning bite once again. With missing teeth, people have to limit their food choices and even resort to a soft diet. Although dentures can help you regain some chewing power, it still affects how (and what) you eat. Research suggests that these dietary adjustments could negatively affect your nutrition. In this blog post, you can learn more about the impact and how dental implants can improve your eating habits.
Dentures and Nutrition
A healthy diet involves eating a range of nutrient-rich foods, including fruits, vegetables, lean proteins, dairy products, and whole grains. Well, new research from Regenstrief Institute and Indiana University School of Dentistry suggests that wearing dentures may limit a person's consumption of some of these foods and negatively affect their nutrition.
For the study, researchers evaluated the dental records of around 10,000 Indiana patients and looked for specific markers for malnutrition. They found that patients with dentures experienced a gradual decline in nutritional health over the two years that the study took place. It's worth noting that this decline was not present for those without dentures.
What Causes Nutritional Deficiencies?
Traditional dentures help patients regain about 25-30% of the chewing force achieved with natural teeth. Because of that, eating certain foods can be quite the challenge for many denture-wearers. They tend to avoid chewy or sticky foods, which means they end up cutting out food groups that are essential for optimal nutrition. Softer foods are better for denture-wearers, but they're often higher in sugar and carbohydrates (i.e., ice cream, white bread, etc.), leading to more oral health problems down the line.
Many people don't realize that chewing is the first step in the digestive process. If the food isn't chewed enough, it doesn't digest properly. Since people with dentures often swallow larger pieces of food, it's difficult for the stomach to break it down and absorb nutrients. Ultimately, this can lead to vitamin deficiencies that are linked to several health complications.
How Dental Implants Can Help
Do you find yourself eliminating foods from your diet or struggling to chew because of your dentures? You may want to consider upgrading to dental implants. They'll help support your dentures by connecting them to the jawbone, improving your bite force and reducing unwanted movement. Implant dentures make it easier to chew harder, tougher foods because they allow for tearing motions. With the modern tooth loss solution, you'll be able to enjoy most of your favorite foods once again!
You don't have to struggle to eat with dentures anymore. Reach out to your dentist in North Naples and ask about implant dentures. With their help, you can improve your nutrition and boost your overall quality of life!
About the Dentist
Dr. Mark Makram is a skilled general, cosmetic, and implant dentist who enjoys helping patients of North Naples achieve their healthiest smiles every day. He's taken countless hours of continuing education courses to grow and refine his skill set, ensuring patients receive the best care possible. If you have any questions about implant dentures, don't hesitate to reach out. You can make an appointment via his website or call (239) 513-9990.