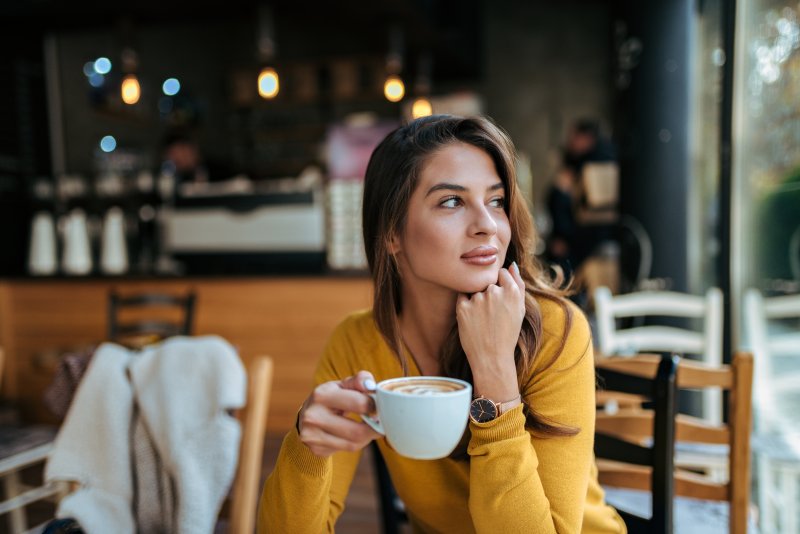 Many people cannot start their day without a morning cup of joe. Are you someone who needs their daily brew? Even though coffee is certainly a tasty energy booster, it can be problematic if you're undergoing Invisalign treatment. Read on to learn why you shouldn't drink coffee while wearing your aligners and how you can still enjoy your favorite beverage!
Why Shouldn't You Drink Coffee with Invisalign?
Since Invisalign clear aligners are removable, there are no dietary restrictions while you undergo treatment. All you have to do is take out your plastic trays before eating or drinking anything that's not water. If you choose to drink coffee with your aligners in your mouth, you increase your risk of the following issues:
Staining and Discoloration – Because coffee is highly-pigmented, it can stain your teeth and plastic trays. If your aligners change colors, they'll become noticeable, which defeats the purpose of discreet orthodontics.
Warped Trays – The clear aligners are heat-sensitive, meaning any warm or hot drinks can warp them. When that happens, the shape of your aligners may change and they won't effectively straighten your teeth.
Increased Risk of Decay – Not only is coffee acidic, but many people like to add cream and sugar to their drinks. As a result, you have a higher risk of decay due to the combination of acids and sugars collecting between your teeth and aligners.
How to Reduce the Risk of Drinking Coffee with Invisalign
Rest assured – you don't have to forego coffee completely! As long as you make a few minor adjustments, you can continue to enjoy it during your Invisalign treatment. Here are some tips to keep in mind:
Remove your trays: The best thing you can do is remove your aligners and store them in a safe place before drinking any coffee. Doing so will help you avoid damaging your trays.
Clean your teeth: When you finish, be sure to brush your teeth and aligners before slipping them back into your mouth.
Drink your coffee quickly: Consider drinking coffee quickly instead of sipping it for longer than 15-30 minutes. This technique will help reduce exposure to your teeth and allow you to quickly return to wearing your aligners.
Reduce or eliminate cream and sugar: It will help lower the risk of cavities and bacteria growth in your trays.
As you can see, making a few changes in your daily habits will allow you to enjoy your morning coffee without putting your treatment at risk. It's a win-win situation!
About the Author
Dr. Mark Makram is passionate about building strong and meaningful relationships with every patient that walks through his doors. After completing his dental education at the State University of New York at Buffalo School of Dental Medicine, he took countless hours of continuing education courses to grow and refine his skill set. If you have any questions about your Invisalign treatment, don't hesitate to ask Dr. Makram. You can make an appointment via his website or call (239) 513-9990.