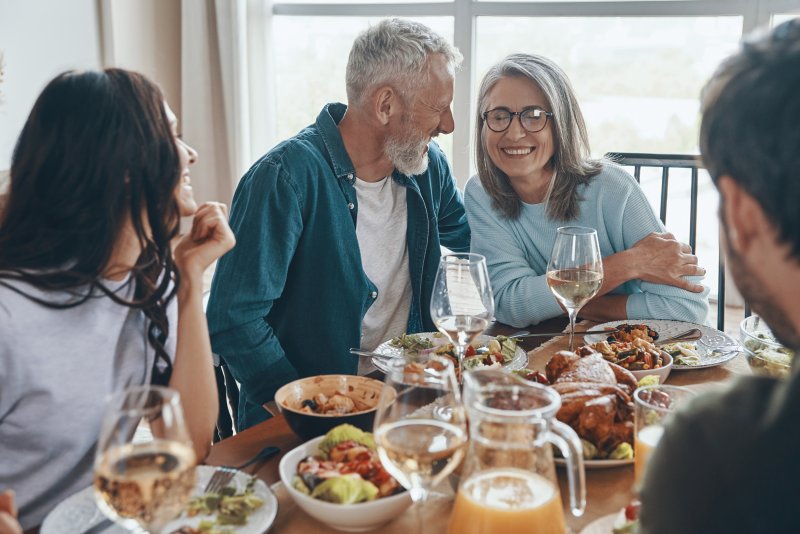 The holiday season is officially in full swing! Now that we're in November, families across the country are pulling out their decorations and preparing for all the festivities that are yet to come. There is always plenty to smile about during this time of the year, especially if you've replaced your missing teeth with dental implants. The modern tooth loss solution provides many incredible benefits, which means there's a lot to be thankful for. Read on to learn a few reasons why you should appreciate getting dental implants in North Naples!
You Can Smile with Confidence
Most denture-wearers are used to having their prosthetic slip and slide around their mouth. The unwanted movement can occur whenever you eat, talk, or speak. Not only is it uncomfortable, but it can be awkward in social settings. Fortunately, dental implants stay firmly in place thanks to their unique placement inside the jawbone. Because they're strong and self-supporting, you can smile with confidence this Thanksgiving!
You Can Eat Your Favorite Foods with Ease
Turkey legs, corn on the cob, and pecan pie are just a few holiday favorites. People with missing teeth may not be able to fully enjoy these foods because of their smiles. With dental implants, you'll regain almost complete biting strength, allowing you to eat anything you'd like! You can fill up your plate with any tasty food you see and indulge just like everyone else.
You Can Lower Your Risk of Oral Health Issues
A dental emergency is the last thing you want to experience this holiday season. Since dental implants promote good oral health, you don't have to worry about developing oral health issues because you're at much lower risk. Best of all, you will never have to visit an emergency dentist for a lost bridge or broken denture.
You Can Maintain a Strong & Healthy Jawbone
Everyone wants to have a beautiful smile for their family photos. Although the jawbone naturally deteriorates with tooth loss, dental implants can stimulate the tissue and prevent this process from occurring. As a result, you can enjoy a strong jawbone and youthful appearance for years to come!
You Can Enjoy Your New Smile for Years to Come
One significant benefit of dental implants is that they're far more durable than any other form of tooth replacement. Dental bridges and dentures need to be replaced every few years, while dental implants can easily last a lifetime with proper care and maintenance. This modern solution is an investment that pays itself off in the long run!
As you can see, there are many reasons why you should be thankful for dental implants. Not only can they boost your confidence, but they'll allow you to enjoy a better overall quality of life! What's not to love?
About the Author
Dr. Mark Makram is a skilled dentist with nearly 25 years of dentistry experience under his belt. He is passionate about continuing education, taking countless hours of courses every year to ensure his patients receive the best care possible. To learn more about dental implants, visit our website or call (239) 513-9990.