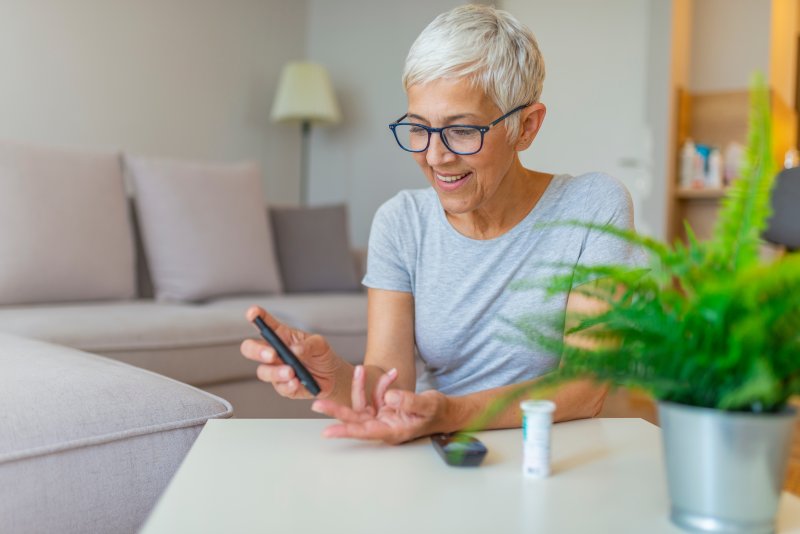 Do you have multiple missing teeth that you want to be replaced? Are you living with high blood sugar and worry that it might pose a problem with your oral health? Knowing if dental implants are possible with diabetes requires understanding your body and habits. This means meeting with your local physician as well as your local dentist. Although it is not impossible, it does require a commitment from you. Read on to discover how you can improve your smile while also managing your overall health.
Are Dental Implants an Option if You Have Diabetes?
Although it does require more monitoring, living with diabetes while wearing dental implants is possible. The reason it can be an issue is that the immune system is weakened, making it difficult to heal quickly. Also, you are more likely to develop an infection or gum disease, which is detrimental to dental implants.
When blood sugar levels are not properly regulated, the ability of implants to fuse with the jawbone becomes severely impacted. Without the completion of the osseointegration process, these implant posts will fail.
This is why it is important that you regularly meet with your local physician to ensure that your blood sugar remains at a healthy level.
What Can You Do to Ensure Dental Implant Success?
While living with diabetes brings its own challenges, you will need to realize that adding dental implants will require a more diligent approach to oral and overall healthcare. You can ensure the longevity of your new smile if you:
Maintain optimal oral hygiene at home. This includes brushing, flossing, and rinsing regularly. It is best if you clean your teeth after every meal to keep harmful particles from becoming stuck.
Continue to see your implant dentist every six months for a thorough checkup and cleaning.
Meet with your local physician to go over any medications you are taking for your diabetes and ensure that you keep your blood sugar at a healthy level.
Eat a healthy, nutrient-rich diet that is low in sugar and starch but high in leafy greens, lean proteins, fruits and vegetables, and low-fat dairy.
Incorporate exercise into your daily routine.
Just because you have diabetes does not mean you are ineligible for dental implants. By taking better care of your overall health, you can feel confident that you will enjoy a healthier, longer-lasting smile.
About the Author
Dr. Mark Makram earned his dental degree from the State University of New York at Buffalo School of Dental Medicine. A skilled general, cosmetic, and implant dentist, he works to build strong relationships with his patients and delivers quality service and care. For patients with missing teeth, Dr. Makram can transform smiles with the help of dental implants, which is a superior restorative option as opposed to more traditional treatments. If you are living with a smile that could benefit from a more permanent tooth replacement solution, visit our website or call (239) 513-9990.