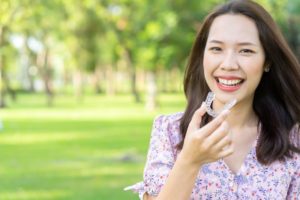 Have you been thinking about straightening your teeth but have not yet made any commitments? That is understandable. Invisalign can seem like a big undertaking. But right now is an ideal time to embark on your orthodontic journey! Why is summer the best time to start Invisalign? This blog post discusses a few reasons.
Time to Adapt
Most people have a least a few days of vacation time available to them in the summer. Although you are likely to adapt quickly to Invisalign, you may want a day or two outside of work to get used to how the aligners feel on your teeth. It might take a bit of practice to adapt to taking them in and out, cleaning them, and easing into other habits that should be with you throughout your treatment period.
Delicious Foods
What is your favorite summer treat? Maybe you love a good hamburger, a slice of apple pie, or some juicy corn on the cob. Whatever you crave, you will not have to worry that your orthodontic treatment will interfere with your ability to dig when you are attending summertime social events.
Since the aligners are removable, you will be able to eat whatever you want. Simply take Invisalign out of your mouth, enjoy your meal, tend to your oral hygiene, and replace Invisalign on your teeth. It's that easy!
Make Memories
Invisalign has a subtle appearance, but it still might take you a bit of time to feel confident while wearing your aligners. This summer, whether you are posing for photos and taking selfies with your friends, you can let your smile shine bright. You will be amazed by how natural your aligners look! Plus, your friends might not even notice that you have started treatment.
Preparing for Next Summer
The total treatment time with Invisalign varies from case to case. Many patients, though, are completely finished within just 12 months. That means if you get started with Invisalign right now, you might be done with treatment by this time next year. Your newly straightened smile will serve as the perfect complement for your bikini!
Are you still unsure about whether Invisalign is right for you? Attend a consultation with a local Invisalign provider. They can help you decide if this summer will be the moment when you finally get started on the path to your dream smile.
Meet the Practice
Dr. Mark Makram is an Invisalign-certified dentist who is proud to serve the Naples area. If you have questions about clear aligners or are ready to begin your treatment, he and our team would be happy to speak with you. Contact our office at 239-513-9990.