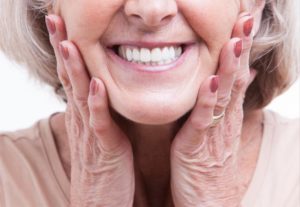 Dentures have restored and completed millions of smiles decade after decade. They are a reliable and cost-effective way to have a full set of functioning teeth once again. However, your restoration needs care and attention to keep it healthy, beautiful, and long-lasting. Read on to learn four bad denture habits to avoid so your smile can continue to thrive.
#1: Neglecting Your Oral Hygiene
Even if you no longer have some or most of your natural teeth, you still need to take care of your smile. It's essential to brush and floss any remaining pearly whites. Even if you don't, be sure to clean your mouth and tongue to keep it free from bad bacteria. Additionally, it's important to keep your dentures in great condition by cleaning them just as you would real teeth. Brush them with soft-bristled and non-abrasive toothpaste so you don't damage your restoration. This will remove any leftover food particles.
#2: Not Wearing Them Regularly
By wearing your denture consistently, you will keep its shape and texture in good condition. When you neglect to wear them on a regular basis, they are more likely to dry out and become mishappen. If you have a newly completed smile with dentures, it's even more crucial to wear them every day so your mouth can get adjusted. Keep in mind to take your denture out at night though so your gums can get some much-needed rest.
#3: Attempting Self-Repairs
Modern times have made it possible to do so many things yourself. YouTube and Google can assist you with various projects and issues, helping you save money from seeking professional help. However, it's best to leave the health of your smile and restoration to a dental professional! Dentures are very intricate appliances; a small change in them can cause major problems. It's best to avoid trying to fix them yourself so as not to make the damage worse or cause harm to your mouth. Your dentist not only has the skills but the tools to fix your dentures safely and quickly.
#4: Skipping Dental Checkups
Preventive care is essential to keeping your oral health in peak condition. Regular checkups and cleanings are crucial for everyone, even if you have dentures. They can monitor your remaining teeth, your gums, and how well your prosthetic is fitting. Additionally, they can spot any potential issues before they become more serious. Your dentures and grin will remain bright and healthy for as long as possible!
About the Author
Dr. Mark Makram is eager to help you keep your smile whole, healthy, and beautiful. He earned his dental degree from the State University of New York at Buffalo School of Dental Medicine and has completed countless hours of continuing education at various prestigious institutions. With 40 years of experience, he uses advanced dental technology and customized plans to restore your teeth with dentures. To schedule an appointment, contact him through his website or call (239) 513-9990.