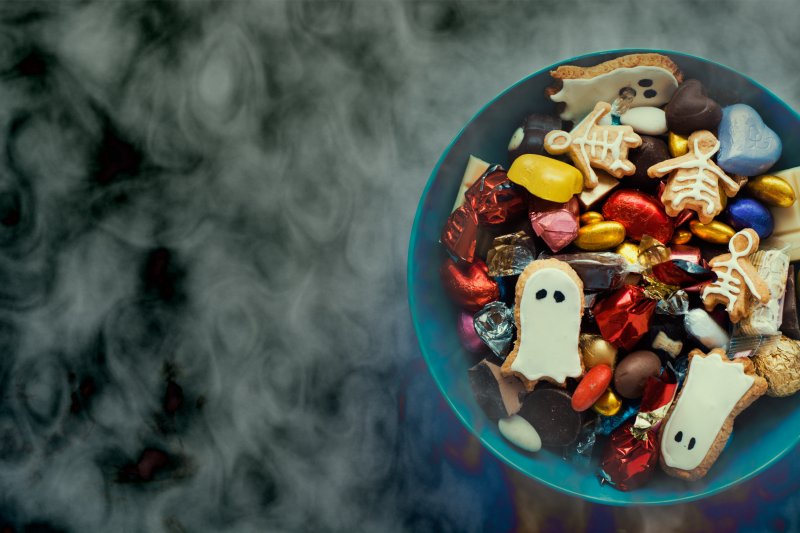 There's no denying that Halloween trick-or-treat bags will pour out this year with some of the most delicious and satisfying sweet treats. In fact, it may be difficult for you not to swipe a few of your favorites after your kid goes to bed. Saying no to your sweet tooth can be difficult, especially around the holidays, but it's not impossible. Discover three ways you can safeguard your smile and avoid putting your oral health at risk this Halloween.
Plan to Donate Some of the Candy
While there is something to be said for willpower, Halloween may not be the best time to kickstart the testing process of saying "no" to sweet stuff." This is why it can be helpful to encourage your child to donate some of the candy they received while trick-or-treating.
Many dentist's offices offer programs that buy back candy from kids. Also, servicemen and women enjoy receiving care packages that include candy.
Consider talking to your children about this kind of opportunity – one that will not only let them enjoy some of their favorite sweet treats but also do something kind for someone else.
Limit When You Enjoy a Piece (or Two) of Candy
Yes, it is tempting to snack on Halloween candy throughout the day, especially if you work from home, but try to limit when you consume one or two of your favorite pieces.
This means that you should eat a meal that is full of protein, leafy greens, and various fruits and vegetables, making sure that you fill up on the healthier, more nutritious items before divulging in a chocolate bar or fruity snack.
In doing so, you will be less likely to eat more of the sweet stuff, which can harm not only your gut but also your smile – think cavities!
Drink Lots of Water
If you choose to consume that delicious peanut butter and chocolate treat, keep a glass of water nearby. In doing so, you can help flush out the sugary particles inside your mouth, preventing them from adhering to your tooth enamel.
Harmful acids can form if left untouched, resulting in a breakdown of your tooth's outer layer. Cavities can begin to form over time, leading to a visit to the emergency dentist's office.
By consuming plenty of water, you keep your salivary glands in production so that your mouth doesn't dry out, and any sugar or harmful bacteria is flushed out for better protection.
Your sweet tooth can get you into a lot of trouble if you're not careful, so make sure that you're taking precautions when it's time to take your child trick-or-treating this year.
About the Author
Dr. Mark Makram earned his dental degree from the State University of New York at Buffalo School of Dental Medicine. Working to build strong relationships with his patients, he delivers quality service and care. Because the holidays can be a hard time for teeth, he encourages his patients to be mindful of what they consume and to stay on top of their oral hygiene routine. If you want to avoid the potential for decay and damage this season, visit our website or call (239) 513-9990.